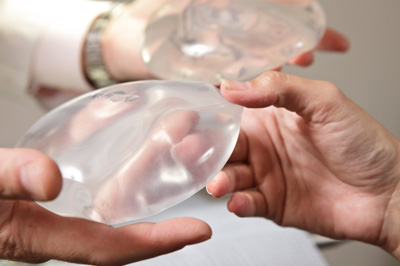 Occasionally when meeting patients who are thinking about a breast augmentation, they ask me about their asymmetric breasts.  They feel that their breasts are "lop sided;"  one breast larger than the other, or a difference in the appearance and "hang" of a breast.
If this is the case for you, good news!  Breast augmentation alone may be able to balance your chest!  There is also the option of additional procedures, including a breast lift.
Volume Asymmetry
A relatively common asymmetry is breast volume.  Most women have a slightly larger breast, but the difference is usually very slight.  (Interestingly, the left breast is usually larger-  we think it's because the heart is on the left side of the body, delivering increased blood flow to the left breast, aiding in development.)
However, if you have a large difference in breast volume, you can achieve the symmetry you've longed for, and a little size boost at the same time!  How?  I can use 'temporary breast implant sizers' , in the operating room.
First a sizer is placed in your smaller breast, and filled with saline solution to the desired volume.  Then, I do the same thing on the larger breast.  Right there in the operating room, I make sure that they are symmetrical, before removing the temporary sizers and inserting permanent implants with the perfect individual volumes to balance your breasts.
Appearance Asymmetry
Some of my patients have asymmetry issues with breast width and breast sag.  In these cases, there are several options.
If your breast has a width issue, then you may need implants with differing profiles, or widths.  The volume of the wider breast implant may need to be increased slightly as well, to accommodate the increased width.
If your breasts have a different appearance from loose skin or "breast sag", then you may benefit from having a breast lift or similar procedure to achieve better symmetry.  Sometimes one breast may need more of a "lift" than the other breast.  Each case is different, and an office consultation is necessary to make the best individualized plan for you.
OCD Breast Asymmetry
Some breast asymmetry is more psychological than surgical.  Some of my patients have a very slight difference in breast appearance, and ask me if it can be corrected.
Well of course I can fix or "correct" any breast asymmetry.  I'm an experienced plastic surgeon, am I not?  However, sometimes the risk of surgery outweighs the end result.
The example I like to use is this:  if you glance at your breasts quickly, and you look away, and you can't tell which breast is "different"-  then I would probably not recommend any type of surgery to correct your asymmetry.
For fun, ask a friend to do this for you.  An honest friend, who will give you an honest opinion.
I have NEVER measured or examined a patient who is perfectly symmetric.  After a careful consultation, measuring your rib cage and torso and breasts, I do not think there is a human being with mathematically symmetric breasts.
Our ring sizes often vary between our 2 hands –  even our arms are different lengths!  The same goes for breasts!  Minimal differences in symmetry will not harm your end result, aesthetically speaking.
That's right, a surgeon just told you that surgery isn't right for everyone.  #realtalk
Any Other Questions?
As always, I hope you enjoyed this article on breast asymmetry in breast augmentation.  If you have any other questions or comments, please send them to me at info@drkim.com.
If you'd like to make a consultation, please call me at 415 362 1846 or email me at info@drkim.com. I look forward to meeting you in person!