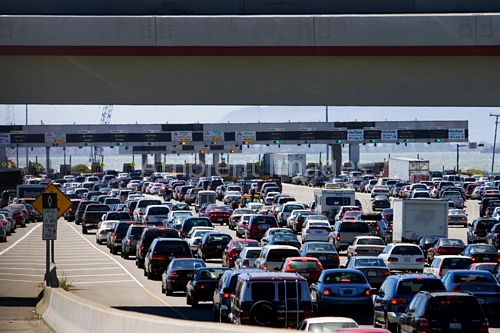 One of my patients today had a plastic and reconstructive surgery problem related to his work.  He has kindly agreed to allow me to share some interesting stories from his job –  working as a toll collector on the Golden Gate Bridge.
As you probably know, the Golden Gate Bridge is one of the iconic symbols of San Francisco.  Connecting San Francisco to the Marin Headlands, it gets a ton of auto traffic, pedestrian traffic, and bike traffic.  You are charged a toll to enter, or to go south, on the Golden Gate Bridge.  The people collecting those tolls, like my patient, have some interesting (and often harrowing) tales to tell.
Hours
The hours can be sub-optimal, since the bridge is open 24 hours a day.  Due to the weather exposure, especially at night and when the fog rolls in, toll workers experience bone chilling dampness at night with hot sun exposure during the daytime, all within one work shift.
Work Conditions
The toll booths are sort of enclosed, but the heaters apparently don't work too well.  They also tend to be maintained and repaired during the winter, which means that when they are needed the most, they're not working.
Crazy Drivers
The Golden Gate Bridge is actually a quasi public/private entity and receives no tax support from San Francisco or local authorities.  The tolls pay for the operation and maintenance of the bridge.
Many auto drivers complain about the high toll by taking it out on the toll collectors, which I personally think is a little unfair.  The toll is $6 cash and $5 with Fastrak, the electronic pass.
And yes, there are cameras crawling all over the place at the toll plaza on the Golden Gate Bridge, but that still doesn't stop drivers from being jerks.
Many drivers play games, or "hard to get", when paying the cash toll, which results in toll collectors having to contort their bodies in and around car doors to get the cash.  Some drivers will pay the $6 with change –  like 600 pennies.  Unfortunately, that change can't be counted during regular business hours.  Instead, the toll collector has to count it on his lunch break. Nice.
If you have the "intention" of giving the correct amount of money, that's all that's needed to avoid penalties.  Some drivers may be careless, or some drivers may do it on purpose, but if they under pay the $6 toll, a photo-documented letter is sent to their house asking for the remainder.  However, this is currently manually tracked to what the toll collector records in terms of "intent to pay."
There are high-speed, automatic "Fastrak" lanes, which collect tolls with an electronic device and no human intervention.  When these lanes need to be changed over to human collection, it's up to the toll collectors to manually change the signs.  Because many cars and trucks don't slow down, or slow down enough, it can be quite dangerous for toll collectors to make these changes on the Golden Gate Bridge.
Technology Will Soon Put Toll Booth Workers Out of Work
Eventually, virtually all lanes will be converted to Fastrak, which will mean the elimination of jobs in the toll booths, although there will probably be an increase in jobs in photo and video surveillance.
So, you think you had a tough day at work?  I would suggest that you be nice to your toll collectors today!  And please, slow down.