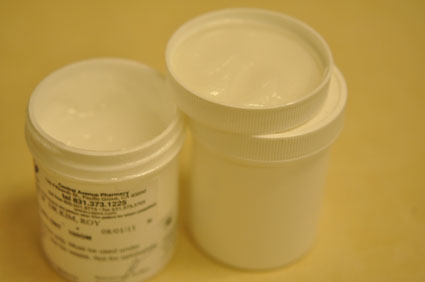 Does your injector use numbing cream before you get a Botox or Juvederm injection? Do you know how strong it is? Is beauty really pain?
As a doctor who has done countless injections, I'm not a huge fan of creating pain in my patients. To lessen the pain with Botox, Juvederm, or other injections, I use numbing cream. I apply the numbing cream on the area that I'm about to inject, and let it sit there for about 10 minutes. After that, I wipe it off and give the injection. My patients typically feel less pain compared to no numbing medicine, because the numbing cream has had some time to sink underneath the skin.
The other special technique I use is simple- STRONGER numbing medicine. Average numbing medicine is about 4-5% numbing lotion. I have special, custom formulated lotion that is 30% numbing medicine, about 6-7 times as strong as typical numbing medicine used by other physicians and medspas. This has the advantage of getting your skin number faster, as well as possibly more numb.
I personally inject all of my patients, since I feel that this gives me more control over the injection, as opposed to having a nurse give the injection. Also, I have been injecting Botox since it first came out for cosmetic use.
Please ask me about "Brilliant Distinctions", a special program that allows my patients to get future discounts on Botox, Allergan, Latisse, and other fine Allergan products.
For more information on Botox, please go to my website at – https://drkim.com/botox-san-francisco/
Should you desire more information about my available services, or want to schedule an appointment, please contact my Patient Care Coordinator at info@drkim.com, or call our office at 415-362-1846.
Did you find this article interesting?  Please share via Twitter, Facebook or Google Plus below.