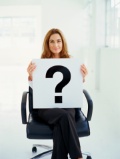 What is a facelift? To you versus a plastic surgeon, there may be a big difference!
To me, a facelift is a surgical procedure to tighten the structures under the face and the skin over the face. The face is defined as the area of the cheeks, the mouth, and in front of the ears.
Typically, most patients need a necklift as well. The neck is obviously NOT the face, so any loose skin around the jowls, the neck, and along the jawline are really considered a necklift. A facelift can't tighten those areas.
Most people need BOTH a facelift and a necklift, because if I do one, I usually need to do the other.
If I just did a facelift on you, then the jawline and and neck would look out of balance, and the skin tightening from the facelift would collect at the earlobe area. Likewise, if I did just a necklift, the face would look out of proportion with saggy skin, and the tightened skin from the neck would bunch up and collect in front of the earlobes.
If you need elimination of wrinkles of the forehead area or repositioning of the eyebrows to a higher, less droopy position, then you need a forehead lift. Although this is a common procedure with a facelift, technically it's not a facelift. I can make the forehead lift incision either in front of the entire hairline, or endoscopically I can reposition the forehead and eyebrows through 3 smaller incisions.
If you have loose skin around the eyelids, bags under the eyes, or both, then you need an eyelid lift or blepharoplasty. Again, this is a very common procedure coupled with a facelift, but techincally not the same as a facelift.
If you feel that you have hollowing of your cheekbones or your eye areas, then you are probably a candidate for fat grafting. Instead of just tightening the structures under the skin and the skin itself, plumping up the hollows of the face can achieve a more youthful appearance.
Phew! So now you know why the question "What is a Facelift" can be complicated!
Everyone's face is different. I try to achieve what you want, in the most natural and rejuvenating way possible. There are alot options, so we can go over the best plan for you, as well as expected recovery times.
Should you desire more information about my available services, or want to schedule an appointment, please contact my Patient Care Coordinator at info@drkim.com, or call our office at 415-362-1846.
Did you find this article interesting?  Please share via Twitter, Facebook or Google Plus below.