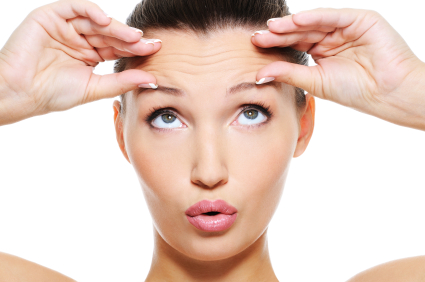 When it comes to treating facial wrinkles, pharmaceutical giant Allergan is definitely the big dog on the block. Its two flagship products, Botox and Juvederm, have been virtually unchallenged and have grown to become the two most common aesthetic treatments in the United States.
Botox works by weakening the muscles that cause wrinkles in the forehead, crow's feet and between the eyebrows. Juvederm is a synthetic hyaluronic acid dermal filler that replaces lost volume in the smile lines, temples, cheeks and any other area that needs a little plumping.
It's no surprise that Allergan's competitors are itching to get even a little piece of the lucrative injectable market, and in fact, Medicis introduced a product called Dysport to compete with Botox in 2008, but it remains a distant second in the wrinkle race.
But now two more players are throwing their hats in the ring. Mentor and its product called Purtox hopes to compete with Botox. And Fibrocell Science, Inc. has received FDA approval to market Azficel-T, an autologous filler method to compete with Juvederm.
Purtox
Phase 3 of FDA clinical trials for Purtox were recently completed at 12 centers and included testing on about 700 patients. Plastic surgeon and assistant professor of plastic surgery at USC, Dr. Brian Kinney, recently spoke at the Aesthetic Plastic Surgery Symposium and reported that the three-year study was the best he had ever done on patients and that, "people love it."
Purtox is only being investigated as a wrinkle-reduction treatment for the glabella region, which is the area between the eyebrows and the only area that Botox is approved to treat. However, Botox in its "off label" use around the eyes and forehead has proven effective, and Purtox is expected to perform similarly.
Highly controlled photographs of the test patients who received Purtox were compared to those who received a placebo (saline), and significant improvement in wrinkles and pore size were noted in the Purtox patients.
This is all well and good, but until a competitor can make a dent in Botox's marketing and name recognition value, it's likely that any new replacement product will have a rough go at things. Botox has become such the standard in aesthetic injections that it has reached the level of "Kleenex" and "Frisbee," name brands that now represent the entire product line.
Purtox is expected to be available in late 2012.
Azficel-T
There's been lots of buzz in the aesthetic treatment world lately about using a patient's own body, whether it be their fat, stem cells, or blood, to replace lost volume. Fat harvesting and grafting has been utilized effectively for some time, while stem cell facelifts and "Vampire" facelifts are new procedures whose results are still unproven.
But now the FDA has recently approved a new treatment called Azficel-T that uses a patient's own fibroblasts to treat moderate to severe nasolabial fold wrinkles (smile lines). A fibroblast is a type of cell found in connective tissue that produces collagen.
The treatment works (albeit very slowly) by extracting fibroblast cells from behind a patient's ear and sending them in a vial to the Fibrocell Science Laboratory where they are allowed to grow and multiply for at least three months. They are then frozen and stored until the patient is ready to use them. At that time, they are shipped back to the plastic surgeon or dermatologist and reinjected into the patient's face to plump up hollow areas of the face. Results last about six months.
Azficel-T cheerleaders like to say that the trend toward using a patient's own cells to treat facial aging is here to stay and the "revolution" of the future. But I don't know.
Autologous treatments like Azficel-T will have to make significant improvements to the speed of delivery and the longevity of results to truly compete with quick and effective products like Juvederm, Radiesse, Restylane and other dermal fillers. All this waiting around and added hassle seems like a big hoop to jump through for results that last half as long as most synthetic fillers.
There are always newbies knocking on the door of the established players like Botox and Juvederm. Only time will tell if one of these greenhorns is able to give the big dogs a run for their money … their stacks and stacks of money.