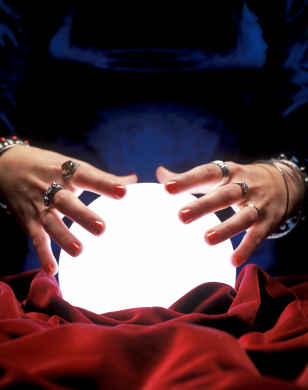 For the past two weeks, everybody has been making their predictions for 2012.  According to Gerald Celente, the U.S. will go into a full-scale economic meltdown and food riots will be rampant.  And according to the Mayan calendar, the world will just come to an end.  Luckily for you, my predictions only deal with plastic surgery and are far less dire.
Plastic surgery continues to grow in interest for many fans, critics, frenemies and obsessives throughout the world.  Being a plastic surgeon, I have a great view of plastic surgery, since I live it and I'm talking to my patients all the time about it.
Here are my Top 5 Predictions for Plastic Surgery in 2012:
#5 More Discussion About What a Plastic Surgeon Is
There continues to be confusion about what exactly a plastic surgeon is.  Yes, I've talked about this topic numerous times  (see here and here and here …and oh yeah, here), but Plastic Surgery is a distinct medical specialty that requires tons of special training, written and oral tests, and a secret handshake.  And no, Cosmetic Surgery is NOT Plastic Surgery, despite the continued proliferation of cosmetic surgeons all around me.
#4 Stable Plastic Surgery Statistics

The ASPS and ASAPS continue to spin and churn out statistics stating that cosmetic surgery procedures are on the rise.  I say-  Hogwash.
Plastic surgery procedures overall are increasing, but the actual amount of surgical procedures is actually flat.  This is true for several reasons, including the "good enough"  results from office procedures such as Botox and dermal fillers, and the fact that even elective reconstructive surgery procedures are probably being postponed during the Great Recession.
#3 More Plastic Surgery Considered "Cosmetic" by Health Insurance Companies

I'm not one to attack and vilify health insurance companies.  To me, that's like attacking car, life, business, disability, and other insurance companies that play a crucial role in reducing risk and statistically covering expensive events in our modern society.  I guess I'm pretty much in a minority of 1-  because EVERYONE I KNOW seems to hate the health insurance companies.
However, I have noticed over the past couple of years that health insurance companies are denying coverage for more and more elective plastic surgery procedures.    Several years ago, ear pinning surgery (otoplasty) was a covered procedure, because it's a birth defect.  Increasingly, health insurance companies will NOT cover this at all, even for a small child.  Breast reduction surgery used to be relatively easy to get covered.  No longer.  You need to go through a massive check list of criteria before being considered for a breast reduction today.  This trend can only continue.
#2 Non-Invasive and "Office" Procedures Will Continue to Increase
Certain office procedures are very good, whereas other ones are only "pretty good."  None of them give as long-lasting or as "good" of a result as surgery, however, this line will continue to blur.  In 2012,  more and more cosmetic procedures will be done in the office as opposed to an operating room.
#1 More Black Market Surgery With Disastrous Results
As patients who don't have the funds for plastic surgery opt to take a risk on less expensive and unqualified providers, we will continue to see an increase in the number of freakish news reports about plastic surgery gone wrong.  Meanwhile, I'll have plenty of new material for my weekly Wacky Wednesday column!