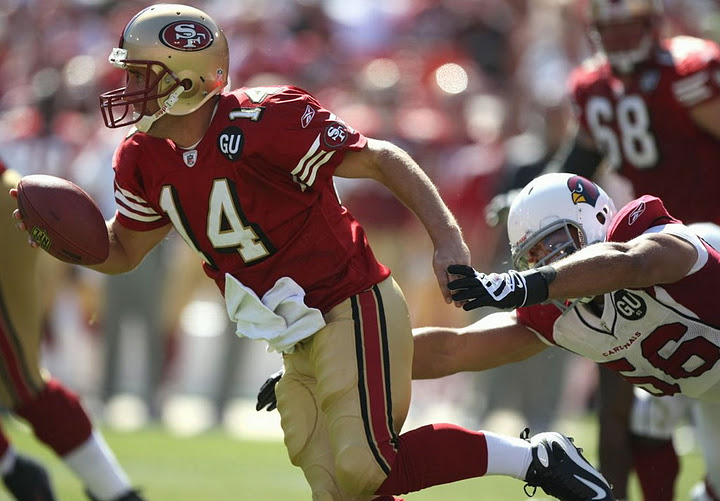 I'm a Pittsburgh Steelers fan, since I grew up in Pittsburgh, Penn., and even though I live and work in San Francisco, I'll always support the Steelers before any other football team.  Because the San Francisco 49ers are in the NFC Championship game, I looked into buying season tickets for next year.
As you probably don't know and don't care too much about, the 49ers play in Candlestick Park, an old park for the NFL.  The owners have kept things pretty old school and don't sell high-priced PSL's/ personal seat licenses, and the season tickets are relatively inexpensive by NFL standards.  But the club seat areas aren't that great, and it's hard to find parking for your limo let alone your private jet.  There's too many  regular folk jamming the parking lot for tailgating before the game.  For a progressive AND cosmopolitan (i.e. wealthy) city like San Francisco, things at Candlestick Park have been rather quaint.
But that's all about to change.
Our last mayor, Gavin Newsom, lost the 49ers –  and the new $1 billion (yup, with a B) football stadium will be in Santa Clara.  Of course, this may be a blessing in disguise, because all of the taxes around Santa Clara will probably go up to pay for the football paradise that will be built just south of San Francisco.
In a feel-good frenzy about the Santa Clara 49ers San Francisco 49ers making the playoffs, the owners decided to release new season ticket prices for the new stadium.  And let's just say that if you are not part of the 1% of the 1%, you can't afford them .
Want the details?  Brace yourselves.
Cheapo seat pricing is not known at this time.  If it's 50% of the expensive seats, then a single ticket will be about $175-200.  That means that a season ticket will cost about $1,750-  for only home games, no pre-season games, and no playoff games.  For my family of 5, that means only $8,750 per year for football tickets.  Meh, do my kids really need to go to college?
The "better" seats require a PSL or "Personal Seat License."  This gives the PSL owner the right to buy football tickets in the better sections.  The PSL for each seat ranges from $20,000 to $80,000, and the season tickets go for $3,250 – $3,750 on top of that.  
The best seats are only $80,000 down, and $3,750 per seat.  For my family of 5, that's $400,000 down for the PSL's, and $18,750 for the annual ticket fees.  This does include some parking and food, although it's unclear to me where my limo would pick me up before and after the game.  And again, there is no discussion of a private jet strip or helicopter pad for my family so that we can more easily go to and from the game and avoid traffic.  What gives?
So, how exactly does this fit in with my retirement strategy?  Simple.  If I can afford the most expensive football tickets, then I can easily afford retirement.  Not surprisingly, this type of money for sporting events is probably only spent by businesses who can write it off, or the truly wealthy, and not mere plastic surgeons.  However, there's always room to dream, isn't there?
Don't believe me?  Think this is crazy?  Read it from these "legitimate" news sources if you must.
http://abclocal.go.com/kgo/story?section=news/sports/pro/football&id=8496911
http://www.mercurynews.com/breaking-news/ci_19697974
http://www.mercurynews.com/portlet/article/html/imageDisplay.jsp?contentItemRelationshipId=4172435