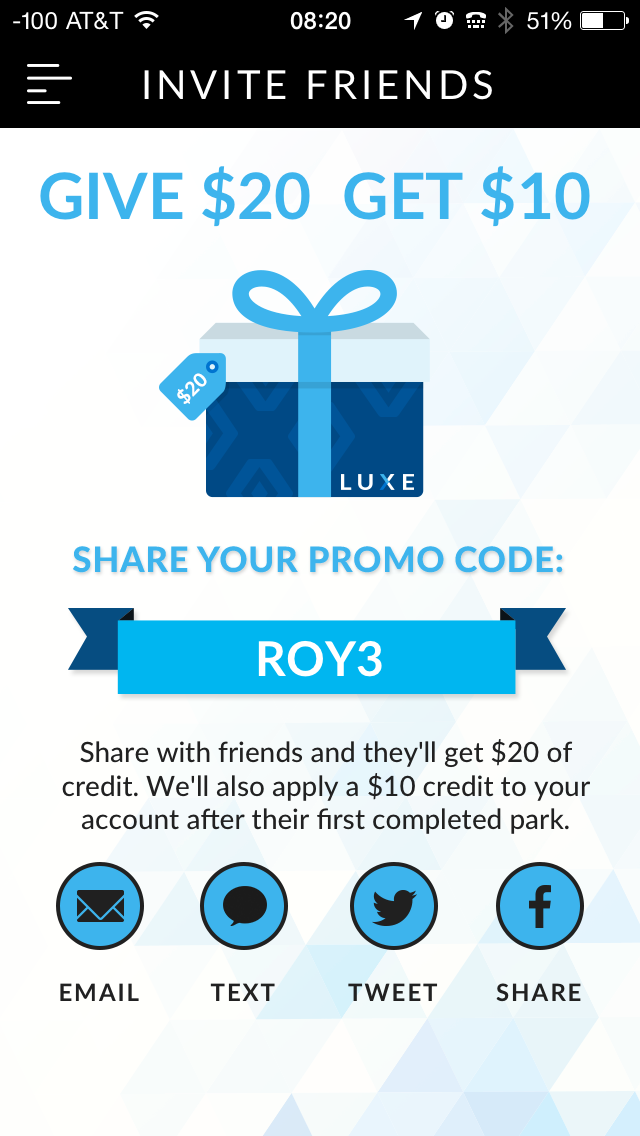 As a plastic surgeon in San Francisco, my office location is truly awesome for people who work in downtown San Francisco, and public transportation access is amazing-  I'm only 1 block away from MUNI and BART, and 2 blocks away from Market St.  However, some of my patients occasionally have a difficult time visiting me in my office in San Francisco, because parking may be tight.  Also, it's great to save money – right?
Well, there is a new "on demand" service called Luxe Valet that I am recommending to you, and all of my other patients.  Luxe Valet offers valet parking for your car, even if my parking lot in my building is full.  You will need an Iphone or Android phone, download the app, and potentially park for about $5 per hour – with a valet!
How Luxe Valet Works for My Office
You need to use the smartphone app, contact your Luxe Valet through the app, and have him/ her meet me at my office address.  Your Luxe Valet will have a bright blue uniform on.  They will take your car, and valet park it.
When you are ready to leave, just use the Luxe Valet app again, and have your car brought to my office location.  Your car will be waiting for you.
Want to go eat, or go shopping, after your appointment with me?  No worries-  when you are done with your snacks or shopping, contact your Luxe Valet using the smartphone app-  and your car will be brought to your location!
More details about Luxe Valet here-  http://www.luxevalet.com/#how_it_works
Referral Coupon
If you use my referral coupon, "ROY3", then you should potentially get a $20 credit to try out Luxe Valet.  Let me know if it works!  (FYI, I am supposed to get $10 in my account, so I'm letting you know about this now!)
Disclaimer –  I am just a fan, not an investor!
I am not an investor in this company, I do not know the managers, and I don't make any money from this article.  I was not asked to even write this article. 
I am just posting this on my blog and social media websites, because my patients who have used this service are thrilled to pay less than the normal garage parking fees around my office location, but still get valet parking.  And yes, some of my patients see me, go shopping somewhere else, and pick up their valet car at their new location –  all without any fuss.
If you have further questions about Luxe Valet, please read their website or contact them!  Their website is – http://www.luxevalet.com
Download the Luxe Valet App
https://itunes.apple.com/us/app/luxe-valet/id895660292
https://play.google.com/store/apps/details?id=com.luxevalet.customer&referrer=utm_source%3Dwebsite%26utm_medium%3Dgoogle%2520play%2520button
https://itunes.apple.com/us/app/luxe-valet/id895660292
https://play.google.com/store/apps/details?id=com.luxevalet.customer&referrer=utm_source%3Dwebsite%26utm_medium%3Dgoogle%2520play%2520button
– See more at: https://drkim.com/2015/04/23/luxe-valet-parking-app-my-office/#sthash.1KTEbVvw.dpuf