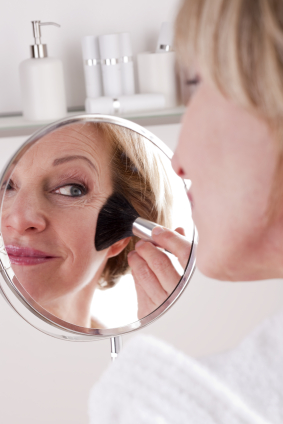 If you want to tighten the loose skin of your upper or lower eyelids, you have non-surgical and surgical options.  Fortunately for surgeons, the best option is probably surgical in nature.
Non-surgical options include
–  skin care, including eye creams, vitamin C, or Retin-A
–  chemical peel
–  laser resurfacing
Skin care, including eye creams, vitamin C, or Retin-A, are a good option if you have a busy life, and simply want something that can be done on a daily basis to improve your overall skin tone.  Prescription grade products that are only available for a doctor's office, such as Retin-A, Obagi skin care products, or other brand names, will generate more skin tightening than OTC/ over the counter medications.  However, there are limits to skin care products, since they will not tighten the skin that much.
A chemical peel will significantly tighten your upper and lower eyelid skin.  The advantage of this procedure is that it can be done in an office or operating room setting.  Some significant risks include possible damage to your eye, so eye protection is a must.  You will probably have significant exfoliation or skin flaking after your chemical peel, so your recovery after the procedure may be 1 week or even longer.  You will need to protect your skin from the sun for several weeks to months after your peel.
Laser resurfacing is similar in risks and benefits to chemical peel.  However, laser relies on the energy of light wavelengths to exfoliate the skin.  The new skin grows with fewer wrinkles and is significantly tighter.
Surgical options include an eyelid lift, also known as a blepharoplasty.  This can be an upper eyelid lift, lower eyelid lift, or both.  This is the gold standard of eyelid rejuvenation, because it achieves the most skin tightening compared to non-surgical options.  The upper eyelid incision is hidden in your upper eyelid fold, and the lower eyelid incision is hidden directly underneath your eyelash line.  Without makeup, both of these incisions should be difficult or impossible to see.
Despite technological advances in skin care and lasers, it's tough to tighten your eyelid skin as much as an eyelid lift.  Fortunately, and eyelid lift is not that painful, and the recovery time is similar to laser resurfacing.
Should you desire more information about my available services, or want to schedule an appointment, please contact my Patient Care Coordinator at info@drkim.com, or call our office at 415-362-1846.
Did you find this article interesting?  Please share via Twitter, Facebook or Google Plus below.
– See more at: https://drkim.com/2010/05/28/loose-eyelid-skin-any-non-surgical-options/#sthash.g7kEter4.dpuf