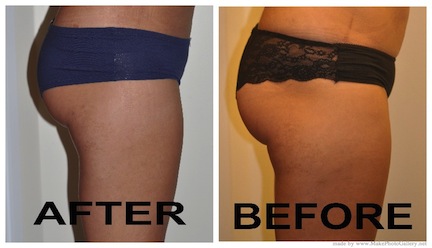 Liposuction Data Sheet:
Name- Power Mom
Age – early 30's
Height – 5'6"
Weight -145 pounds/ 66 kilograms
Procedure – liposuction
Areas of Liposuction – tummy/ abdomen, and love handles/ flanks
Waist Size/ Dress Size Before – dress size-  4
Waist Size/ Dress Size After – dress size – 2
Type of Liposuction – SAL/ suction assisted liposuction
Liposuction Incision Areas – belly button/ umbilicus, pelvic folds
Power Mom is a young mother in her early 30's.  Although she stays fit, she was unable to get her body back to her pre-motherhood condition.  Healthy lifestyle and routine exercise did not eliminate her tummy's trouble-spot even years after her last child.  Plastic surgery did not occur to her as an option, until she was unable to remove the last 5-10 pounds of fat with diligent, vigorous exercise.
Power Mom came to my office to inquire about liposuction, and ultimately underwent suction assisted liposuction with the power-assisted hand piece.  In plain English, this is regular liposuction with a device that gently breaks up and removes the fat.  Her young age and small amount of fat, meant she did not need any other type of technology to get her skin to tighten after surgery.
In the operating room, I removed 1540 cc of aspirate, or about 3.4 pounds of aspirate.  Not all of this was fat, but most of it was-  about 1.6 pounds.  This fat was removed only from the abdomen and love handle areas.
In her 'after' photos, you can see the skin has tightened up nicely after the fat has been removed.  The incisions, which are only 3 mm long, are difficult to see.  Power Mom's midsection contour is smoother, with little fat that she can pinch, after surgery.  You can see her stretch marks, now without the fat behind them, are less noticeable.  Power Mom is thrilled with her results, and referred 2 family members after her operation.
Thanks to Power Mom for her willingness to share her experience and her transformational photos of liposuction!
DISCLAIMER:
This is a real patient that I operated on, as such I consider her a member of my professional family, like all my patients.  I refer to her as "Power Mom" to protect her privacy.  Everyone differs in their cosmetic surgical needs.  Some may need different procedures and technological equipment to address larger volumes of fat, different placement of fat, looser skin, etc.  Although I can't make any guarantee that you'll get the same results as her –  I am confident that my skill, knowledge and highly competent staff will provide you with the best pre-op planning, surgery, and recovery available.