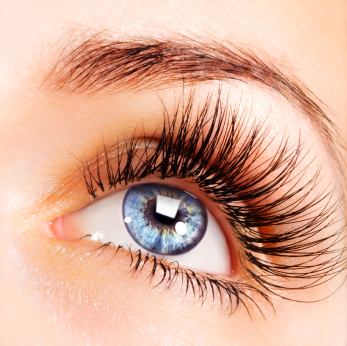 By Charity Ohlund – Guest Blogger and "Eyelash Challenged" Product Reviewer
I've been on a mission for better eyelashes for a looooong time.  In their natural state, my lashes are blonde.  And to say they are skimpy would be an understatement.  Without mascara, I basically look like a newborn marsupial.
So, today I'm going to share and compare my experiences with both Latisse and professional eyelash extensions.  Full disclosure – I prefer Latisse.  I'm just going to put that out there right up front.  This will not be an unbiased review.  And why should it?  I've tried both, and I like Latisse better.  It's as simple as that.  Here's why:
Cost
Eyelash Extensions – We're talking about true, professional eyelash extensions here and not the $5 drug store place and glue lashes. So, it's pricey.  The initial cost for the 60-120 individual synthetic polyester lashes that are applied to each eye ranges from $250 to $600.  Monthly touch-ups range from $50 to $100. (It may cost more when you factor in the price of gas to get to and from the salon and the price of a babysitter, if needed).
Latisse – Latisse is the accidental discovery of pharmaceutical giant Allergan.  Glaucoma patients were being treated with a prescription eye drop drug called Lumigan, and lo and behold, their eyelashes started getting fierce!  The active ingredient, bimatoprost, was repackaged as Latisse, which gets brushed onto the lash line instead of dropped into the eye.  One bottle with 60 applicator brushes ranges from $125 to $150 and lasts about two months.
Bottom Line – Latisse is cheaper.
Time Required for Application
Eyelash Extensions – Lash extensions must be applied at a salon by a provider specifically trained on the painstaking technique.  So, a more experienced "lashologist" will be quicker than a newbie.  But in general, initial application takes 90 to 150 minutes and touch-ups take 15 to 60 minutes.  Plus, you have to add in the time to get to and from the salon.
Latisse – Latisse is applied by you, usually in front of your bathroom mirror.  The whole process, including opening the application wrapper, opening the bottle and putting it on your eyelids, takes about 60 seconds.
Bottom Line – Latisse is faster.
Results
Eyelash Extensions – You can't beat eyelash extensions when it comes to immediate, dramatic results.  They're awesome.  You walk in looking like an opossum, and you walk out looking like a Kardashian.  Plus, there are loads of choices for different colors, different lengths and even glam options like feathers, pearls and crystals.  They're too fun!  Until they start falling out … like two days later.
Latisse –  To get the most out of Latisse, ya gotta have patience.  A watched lash never grows, right?  For the first several weeks, I couldn't see any difference in my lashes.  But I persisted.  Around eight weeks – eyelash Bonanza!  By 16 weeks, they were skimming the inside lens of my sunglasses.  Not only were they crazy long, they were also darker and thicker.  When lunching with my sister, she stopped mid sentence and said, "Oh my gosh.  What is going on with your lashes? They are soooo long!"  Enough said.
Bottom Line – Eyelash extensions are more dramatic.  While they last.
Ease of Use
Eyelash Extensions – It is this "ease of use" category that finally turned me away from eyelash extensions.  Once you go through the time and expense of getting them applied, they tell you, "Be sure not to rub your eyes."  Guess what you can't stop thinking about after someone tells you not to rub your eyes?  Holy moly, I thought I was going to go crazy.  The urge to scratch your eyes out is pretty overwhelming.  At least it was for me.
Plus, you're not supposed to get them too wet or use makeup remover because it can degrade the adhesive.  I found showering and washing my face while trying to work around my lashes to be a big hassle.
Latisse – While using Latisse, I do experience occasional eye itchiness, once or twice a day.  But I'm free to scratch away.  I also occasionally wake up with redness on my eyelids, but it seems to disappear about an hour after waking up.  Otherwise, Latisse gives me lots of freedom.  I can go swimming.  I can wash my face with wild abandon.  I can skip mascara or load it on for a really dramatic effect.   Okay, it's no secret.  I love Latisse.
Bottom Line – Latisse is easier to live with.