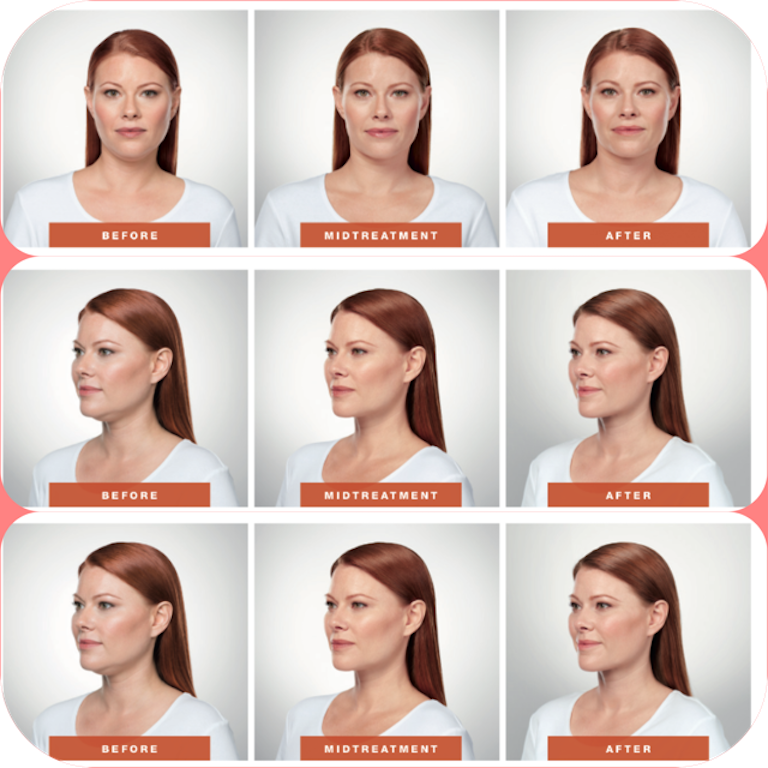 What is Kybella?
Kybella is a new injectable that melts fat. The exact chemical is "deoxycholic acid". The chemical is shipped in vials, and I have to withdraw it into small syringes and inject it directly into your fat.
The chemical works by destroying fat cells.  No fat cells will result in your "double chin" looking smaller. You may need 1 or more treatment sessions to fully eliminate your "double chin" to your desired long-term look.
Can Kybella get rid of my "double chin"?
Kybella is FDA approved for injection into submental fat, or "double chin" area. There are studies currently being done for fat in other areas of the body.
Am I a Candidate for Kybella?
The best potential patients for Kybella are patients who have moderate to severe fat in the "double chin" area without loose or hanging skin. Also, you should not have an existing infection in the "double chin" area. Patients shoule be 18 years or older.
Of course, an actual consultation in my office is required before your Kybella procedure. I need to examine you to ensure that you are a suitable candidate for Kybella injection.
What are Some Alternatives to Kybella?
If you have a lot of "double chin" fat, Kybella may still be an option- but liposuction of the chin fat may actually be less expensive than multiple treatment sessions of Kybella.
If you have lots of loose skin, the Kybella injections will work to remove your "double chin" fat, but you may end up with lots of loose skin. If this is the case, then a necklift may be a better option for you.
What is the Kybella Procedure Like?
You come into my office, have some numbing cream applied, and wait a couple of minutes. The numbing cream is wiped off, and then the Kybella is injected while I am holding your "double chin" fat, to ensure that the Kybella is injected into the correct areas.
After a couple of quick injections, you're done! You will be sent home with a chin strap and instructions on care, and I will see you in the near future to ensure that you are happy with your results.
Most patients will benefit from a 2nd treatment session, which is usually done about 6 weeks after your 1st treatment session.
A helpful hint- since you may have some redness or swelling after your Kybella treatment session, I would recommend that you come in the afternoon, and be able to take a day or two days off, after your injections. You should be able to work immediately and the next day after your Kybella treatment- but your neck skin may be a little red or itchy, so if you have curious co-workers or clients, you may want to work from home the next day, or take a day off of work or seeing friends, family, or customers.
What is the Recovery Process after Kybella Injection?
Patients describe that the actual Kybella injections don't hurt much at all. This is probably because I'm pinching your "double chin" fat while simultaneously giving you some injections, so you don't really feel them.
However, patients do describe some "burning" or "itching" pain right after the injection. This is a good feeling- because you are feeling your fat cells in your "double chin" melting away! Ice, compression, and other maneuvers are great ways for you to have less burning and itching in that area.
Your skin in that area may turn slightly red after your injection, and may require more follow up visits to ensure that your Kybella injection went smoothly.
What Are the Possible Side Effects of Kybella?
Possible side effects include slow healing, asymmetry, nerve injury to the jaw area, problems swallowing, bleeding, infection, stiffness, areas of hardness, numbness, and other issues.
Some patients may need more than 1 treatment session. I don't know if this is really a "side effect", but depending on how much "double chin" fat you have and how your body responds to Kybella, you may need 1 or 2 treatment sessions. Only rarely would an average patient need 3 or more Kybella treatment sessions.
How Long with My Kybella Results Last?
After your fat cells are destroyed, your "double chin" will be gone. You must maintain your diet and exercise to ensure that your "double chin" stays away! Common sense will tell you that if you gain 75 pounds after your Kybella injection- uh, your "double chin" might come back.
What is the Cost of Kybella?
Most patients will do well with 1-2 treatment sessions of Kybella. If you have less fat, you will probably only need 1 treatment session. If you have more fat, you will probably need 2 treatment sessions.
Each treatment session normally costs $1400, but until June 30, 2016, the cost is reduced to $1200. Allergan, the manufacturer of Kybella, is also offering an additional $100 discount for each treatment session, reducing the overall cost to $1100! So, this is a great time to eliminating the "double chin" you have!
You must mention that you heard about this special pricing through my blog, or my social media websites-  Twitter, Instagram, Facebook, or Linkedin.  And hey-  it's always good to be friends through cyber-space!
How Do I Set Up a Consultation?
Drop your smartphone or tablet or laptop or desktop, and run to my office now. OK, on a serious note, please contact me at 415 362 1846 or info@drkim.com or DM me if you're reading this on Twitter/ Instagram/ Facebook/ Linkein. We will set up a consultation, and you can get your Kybella injection the same day!