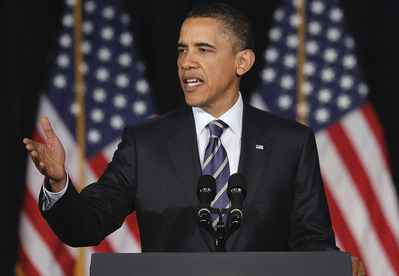 So, Obamacare is now the law of the land.  What does this mean for you?  Well, I will try to offer my speculation on what's going to happen to plastic surgery patients.
What would Obamacare have to do with plastic surgery you ask? Isn't plastic surgery a self-pay system that doesn't involve insurance? Remember, plastic surgery encompasses a lot more than just elective aesthetic procedures such as Botox and breast implants.
Also, I'm a doctor, not a professional pundit. So you might want to take this analysis with a grain of salt, or possibly a whole shaker of salt.  The entire Obamacare bill is pretty long, and although there's some law in it, a lot of the details are not actually known since they are still working on the fine print.
Also, I'm not going to bore you with Health Exchanges, Accountable Care Organization's, and other crap that's more related to health insurance and politics.  I will try to stick to what's going to happen to you, the patient, if you need plastic surgery.
Reconstructive Plastic Surgery
More Conditions Will Be Considered Cosmetic
Less Access to Reconstructive Plastic Surgery Providers
Fewer Plastic Surgeons in Solo Practice
Rise of More "Cosmetic Surgeons"
Conclusion
Reconstructive Plastic Surgery
First, why  in the world is a cosmetic plastic surgeon, like moi, writing an article about Obamacare and plastic surgery?  Well, I still do my fair share of reconstructive plastic surgery, like breast reduction, breast reconstruction for breast cancer, skin cancer surgery and hand surgery.  Plastic Surgery is a pretty massive field, and there are a ton of things I do to make patients happier and more productive in terms of function, wound healing, and restoration of the body.
Yes, reconstructive plastic surgery is covered under health insurance, but surprisingly, it is still underutilized by the average patient.  For example, only about 25 percent of breast cancer patients in the U.S. choose to get breast reconstruction.  I don't believe this to be a health insurance issue. Most providers cover breast reconstruction. Rather, I think it may be either a higher deductible and/ or a personal choice to postpone breast reconstructive surgery.
Breast cancer patients usually want a break from surgery and hospital stays after battling cancer, and the decision to undergo breast reconstruction gets delayed for a long period of time, to eventually just not getting done.
A lot of reconstructive plastic surgery is "elective,"meaning that it should get done, but it's not a life or death decision.  Breast reconstruction, repair of previous traumatic injuries, and scar revision often fall into this category.
More Conditions Will Be Considered Cosmetic
The increase in the number of procedures being considered cosmetic or "experimental" (a favorite term of insurance companies, which translates to "we're not paying for this") is happening in most medical specialties, not just plastic surgery.
Certain cancer treatments and stem cell therapies are considered "experimental." Well, in plastic surgery, some of the newer reconstructive plastic surgery procedures are rare and expensive, and I believe that they will be considered "experimental" or "cosmetic" and will not be covered under Obamacare.
Most patients don't know or don't realize that Medicare doesn't cover every possible medical and surgical treatment.  If the Federal Government feels that a certain drug or treatment is too expensive or shows minimal improvement in a condition, then Medicare won't pay for it.  

Well, Plastic Surgery is the same.  For example, a DIEP breast reconstruction will almost always give a better functional and cosmetic result than other methods of breast reconstruction.  However, the payment is consistent with lesser procedures that take less time.  Fat grafting advances in the past several years have truly helped give a better aesthetic result in breast reconstruction, but some health insurance providers pay peanuts or consider these procedures "cosmetic"and won't even pay for them.
ADM/ Acellular Dermal Matrix is a fantastic product that has revolutionized my ability to do breast reconstruction.  However, a single sheet of this skin costs thousands of dollars, and the amount I can use in an individual patient may be restricted in the future, due to lack of payment.
Maybe you need a hand surgery or have a burn wound that requires therapy afterwards to give you more flexibility or strength.  If the "average" number of physical therapy sessions is 12 session, but you need 16 or 20 sessions, it will probably be more difficult or impossible to get those additional sessions.  It's already hard enough to get "authorization", or permission, to get certain procedures done.  It's highly variable with different kinds of health insurance plans.  Call me cynical, but I tend to doubt that the process will get easier or faster with a massive state and national bureaucracy.
Less Access to Reconstructive Plastic Surgery Providers
Most doctors are already not happy with payments from Medicare.  Forget about state Medicaid, called Medi-Cal in California, most doctors are not even providers in Medi-Cal, due to extremely low payments that take a long time to arrive.
So, what does this have to do with you, the patient?  Well, if there are fewer plastic surgeons that you can see, then you will have fewer choices of doctors, or a longer wait to see a doctor, or both.
Obamacare has taken money out of Medicare and used those funds to help pay for Obamacare.  This is great for the uninsured, but there's no replacement of money into Medicare.  With the tsunami of Baby Boomers on the horizon, I'm not certain what money is actually going to replace those "missing" Medicare funds.
Hopefully, higher taxes.
Fewer Plastic Surgeons in Solo Practice
Obamacare has made a huge push to have companies or entities that can receive a lump sum of money, and then deliver all of the care for a certain diagnosis.  For example, they want to have single payment for pneumonia, hip fracture, open heart surgery, etc.
Plastic Surgery is no different, so I envision that a medical entity or group will get a lump sum payment for
5% body burn
Unilateral breast cancer surgery, and breast reconstruction, and chemotherapy/ radiation therapy
Cleft palate surgery, with associated speech therapy
Diabetic toe treatment, including wound care, home visits, podiatry care, and other medical supplies
The list goes on.
However, most plastic surgeons are in solo practice.  Most plastic surgeons do not work in a larger medical and surgical group with a bunch of other doctors in different specialties.  This means that more plastic surgeons will probably join a larger group, with the increase in bureaucracy.  Of course, this could mean increased efficiencies and better coordination of care.  In the end, you will see fewer "mom and pop," solo plastic surgeons, and more of them will be associated with larger groups.
Rise of More "Cosmetic Surgeons"
Plastic Surgery is a very competitive field to enter and excel at, and I'm proud of my hard work that resulted in being able to complete my training and succeed.  However, there's no real barrier to competition to enter "cosmetic surgery," which is NOT the same as plastic surgery.
There has been an increasing number of non-plastic surgeons entering the cosmetic realm of plastic surgery after taking a weekend course or industry sponsored course, and this trend will grow quickly.
Many doctors perceive that they are not being paid enough, and also, they may feel the pressure to pay off student loan debt as quickly as possible.  This means that more doctors will supplement their shrinking income in their chosen field with "ancillary services," such as cosmetic surgery, and more will make the leap to become full-time cosmetologists.
If you've ever seen a sign for Botox injections in the lobby of your OB/GYN's office, this is what I'm talking about. White coat confusion will increase, and more doctors within certain specialties will continue to argue and snipe against each other in private and public.
Conclusion
Obamacare, officially called The Affordable Care Act, is a huge piece of legislation that will probably continue to morph and change for years to come as Congress squabbles over every last detail. So it's impossible to know the full scope of the bill and how it will affect plastic surgery patients. But one thing is certain. As healthcare costs continue to rise at a meteoric rate and the government and private insurance companies grapple with how to cope, doctors and patients in all specialties, including plastic surgery, will be not be immune to change.