I'm not ashamed to admit it-  I'm not a huge baseball fan.  Since I grew up in Pittsburgh, I am still a Pirates fan, although I don't really follow them closely.  Since moving to San Francisco, I have been forced to become a Giants fan, especially since my sons ADORE/ WORSHIP the Giants.
We have been to several San Francisco Giants game this year, and I promised them I would try to get World Series tickets if they were available.  Of course, I didn't tell them that they are ALWAYS available-  I just didn't want to pay more than 5 figures for each ticket!
Thanks to God, I was able to buy 2 tickets at list price, sell them for a profit, and convert them into 3 tickets for us.  Just a day for the men!
Of course, Game 5 of the World Series was a beautiful day.  We were the 2nd people in line to get in, and as soon as the gates opened at 237 PM, we ran to the home dugout and watched the end of the Giants batting practice.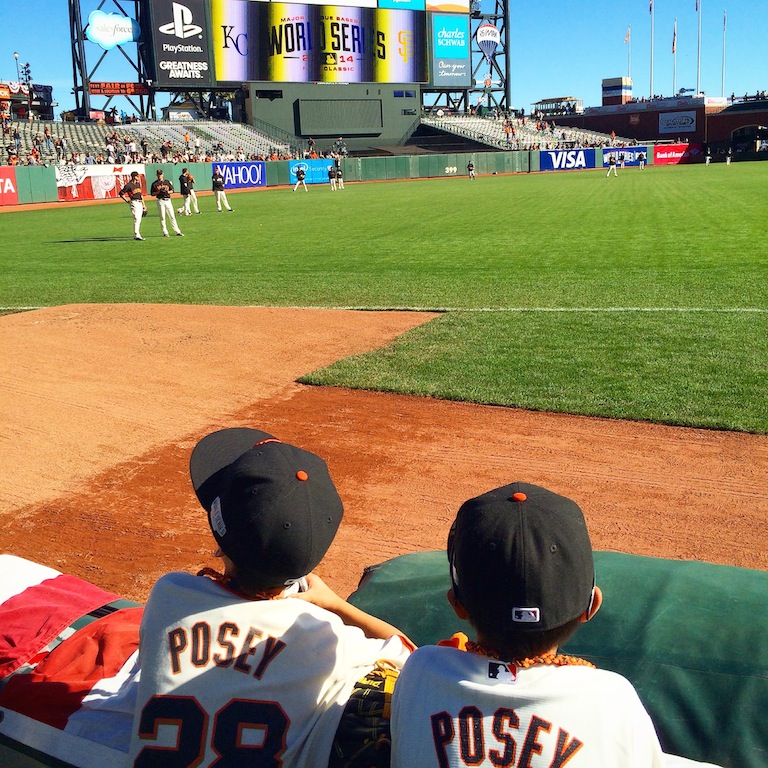 The Giants finished batting practice and came back to the dugout area.  I warned my sons not to be disappointed if no players wanted to sign any autographs.  It's the World Series, they may have been nervous, and they also had plenty of media requirements.
Pleasantly, some of the Giants were willing to sign autographs.  Baseball players definitely favor little kids, so despite the crush of humanity, the usher at the dugout made sure that kids got first priority.  My sons were fortunate enough to get autographs from Matt Duffy, Juan Perez, and Brandon Crawford.
Autograph signings are a great way to instill manners in little boys.  I made sure to tell them to address the players as "Mr. Duffy", "Mr. Lopez", and "Mr. Crawford", and to say "please" and "thank you".  I hope that this will stick in their hamster like brains for longer than 30 seconds.
In the picture below, the green circle shows the kids getting autographs-  while a bunch of teenagers and adults have to wait their turn.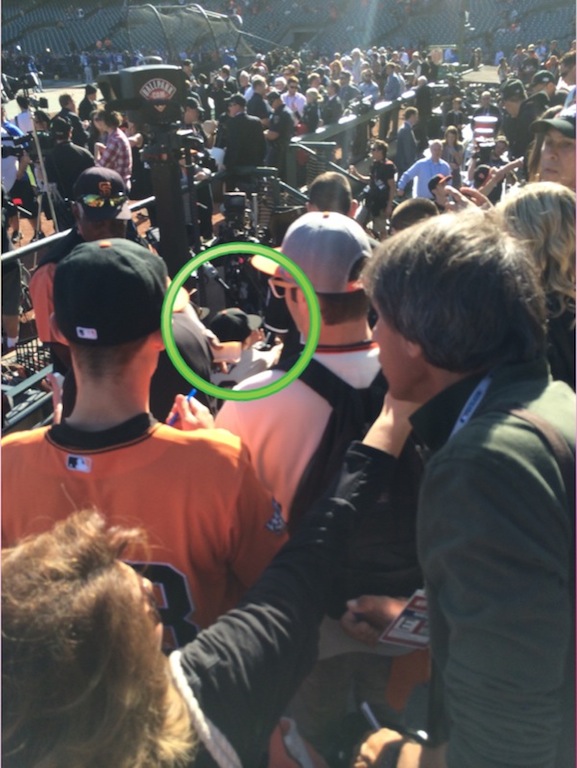 Next up-  the Kansas City Royals.  We had some lunch, and then went to our seats in the center field bleacher area.  There were a bunch of players shagging fly balls, laughing, goofing off, and having a great time.  There were virtually no Kansas City Royals fans, but there were a couple.  Children lined the wall, begging for the ball and just talking to the players.
The kids were not engaging in trash talk, and the Royals players were concentrating on fielding.  There were many moments of laughter, because the kids kept on begging for an extra baseball, and the Royals players would only give them out to Royals fans.  When they ran out of Royals fans, they would occasionally have little kids in Giants gear catch them.
I can't way enough about how nice, polite, and FUN the Royals players were having with batting practice and with the Giants fans.
It's a moment trapped in time-  just a bunch of professional baseball players catching balls in a kid's game, with a ton of admiring fans from the opposite team watching them-  and all parties having a wonderful time.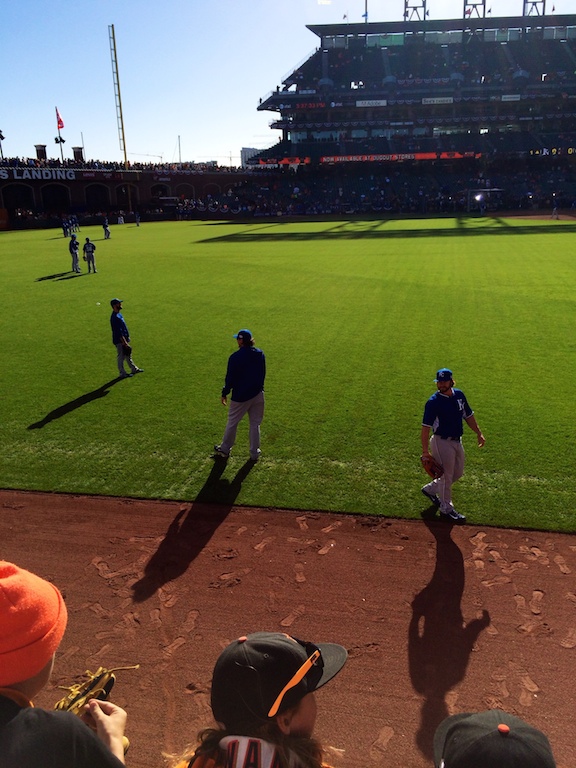 A young Giants fan fashioned the "ball retriever"-  a wire basket attached to a long rope.  He would only throw it into the baseball field after getting permission from the Royals players, and everyone was cracking up at the multiple attempts to snag a baseball.  The Royals players attempted to bounce the baseball in, or kick it in soccer style, to the delight of everyone.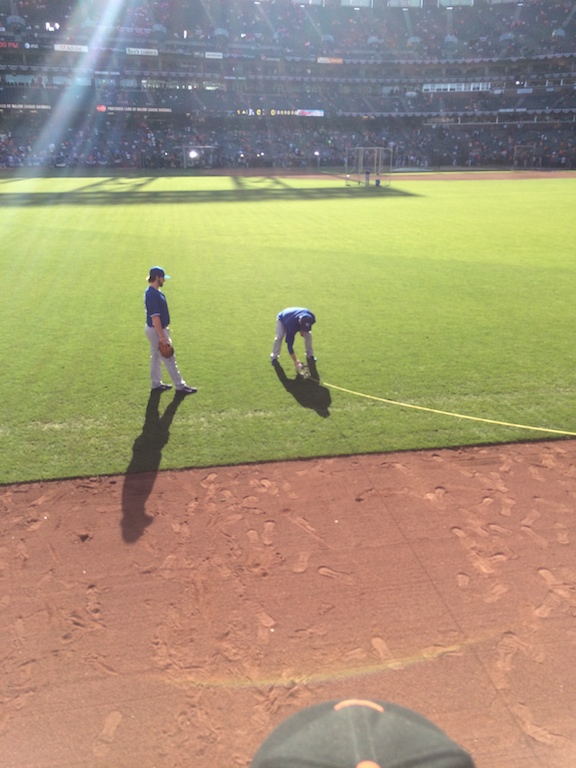 I saw Brandon Finnegan, and I told my kids that he is the first person to pitch in the College World Series and the actual World Series.  They didn't realize that, and I told them that he's an exceptional pitcher.  My older son asked him for an autograph, and I was proud of him when he remembered to say "Please", "Mr. Finnegan", and "Thank you".
Of course, my younger son was cute in his own way, and said "Hey Mr. Finnegan, there's a penny next to you on the warning track, can you give it to me please?"  Mr. Finnegan laughed, and said "Sure kid!", and gave it to him.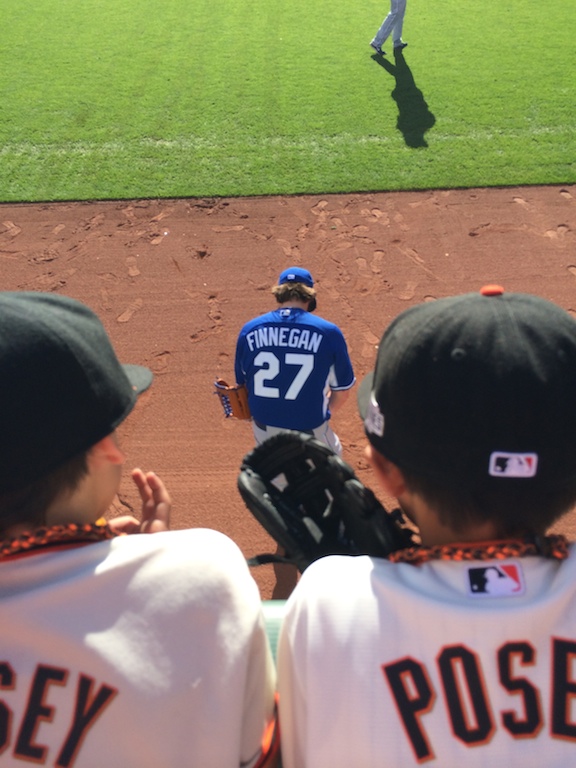 Here's a photograph of the ball that Brandon Finnegan was kind enough to sign.  I have his penny he retrieved as well.
My sons both asked me how much they're worth.  I told them that they're not allowed to sell them- the whole point of getting autographs was to be able to have a piece of history to remind them of heir special day of seeing a World Series game, live, in person.  I think they sort of understand this.
Here's a picture of the prized autographed baseballs, using an app that makes photos into water colors.  Yes, I am a secret psuedo artiste.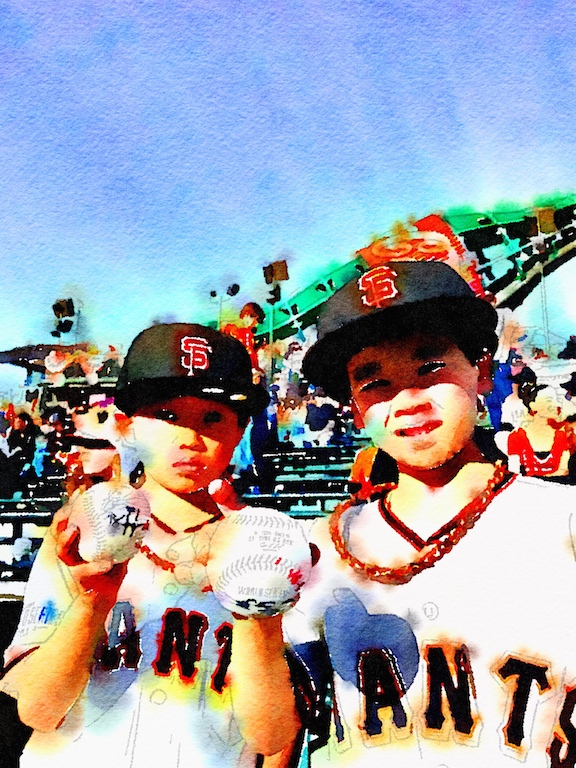 The Giants happened to win Game 5  of the 2014 World Series.  We saw a dominating performance by Madison Bumgarner.  The garlic fries and nachos tasted better than usual that day.
I realized that it only takes 2 beers for most men and women to start acting like my young sons in the bleacher section.  Everyone has high-fiving each other at the end of the game.  It's a bit odd to see a baseball game and have a party with 43,000 of your closest friends.
I have friends in Kansas City, and I don't really hate the Royals.  How can you?  They are a great team that will be back next year.  In fact, I predict that they will win the World Series next year, because they are young, tough, and now, very experienced and hungry for more.
Also, 2015 ends in an odd number, and I'm sure the Giants will have fluke injuries and other problems to stop them from winning the World Series next October.  I am confident that the Giants will probably win the World Series again in 2016/ 2018/ every even numbered year for the forseeable future.
But as you can probably tell, the time spent at a special baseball World Series game isn't always about the game, but rather, about the memories you have forever.  The time you shared a soda with your Dad, or not knowing until years later that your Dad brought you to the baseball game 3 hours early to get some autographs.  The fact that opposing team baseball players are joking with the fans from the other team, throwing baseballs to little kids, signing autographs, and even being polite to a crazy child who asks for a penny from the baseball field.
Sometimes it pays to take a little time out from life, enjoy your family, and realize that sometimes, the world is a wonderful place.