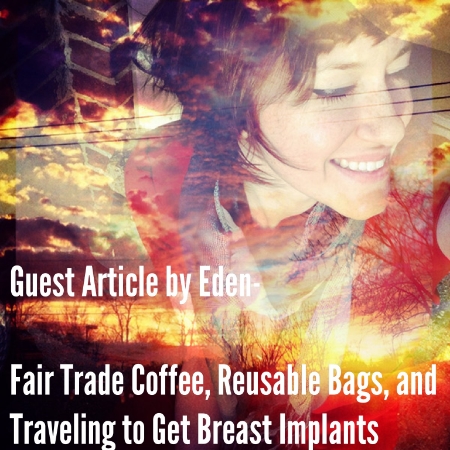 A few years back, my husband—being the automotive fanatic that he is—started looking to purchase a particular car he'd always wanted. When he began the hunt, he was adamant that there wasn't any distance too far to travel. After 6 months of searching, he found the perfect one located in Burbank, CA. Without thinking twice, he booked a flight from our home in Nashville, then drove it back across the nation.
Taking a 4,000-mile roundtrip for a car may seem crazy at first, but going out of our way to get exactly what we want is something all of us do in several areas of our lives anyways, right? For example… Many of us drive past 4 grocery stores to go the one that has our favorite brands. While we're there, we spend twice as much on a single-origin coffee that is certified organic and fair trade. Then finally, as we're checking out, we bag our own groceries in 100% post-consumer reusable bags that we paid $9.99 each for.
Obviously I'm picking at some of us (like myself!) but there's an important principle at work here that I want to encourage you to think about when considering the investment of a breast augmentation… Ensuring an exceptional outcome should always trump our personal convenience.
For me, this is exactly why I flew to a different state for my procedure when there are plenty of fantastic surgeons located right here in my hometown. Even so, I knew in my gut that I would have the best results from one particular surgeon, and I'm so glad I sacrificed my personal convenience to make that happen. It bought me a priceless peace of mind, and I'm thrilled with the outcome of my procedure.
Wouldn't it be silly of us to follow this principle for small things like coffee and reusable bags, then completely ignore it for something significant like a several thousand dollar breast augmentation? After all, it's a lot easier to fix a bad cup of coffee than a botched boob job.
If you enjoyed this article, please visit http://www.EdenKnowsImplants.com — a brand new place for women who are just exploring or already enjoying breast implants. You can also connect with Eden via Instagram, Twitter, Pinterest, or YouTube.
**Please link the above social media channels to the following links:
http://instagram.com/edenknowsimplants
http://pinterest.com/edenknows
https://youtube.com/edenknowsimplants