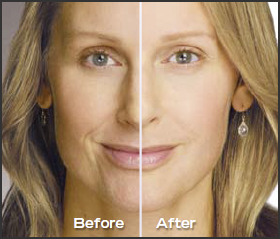 by Carolyn Lagleva – Patient Care Coordinator
Patients ask me all the time if the Juvederm injection hurts.  Let me be honest with you.  It's no foot massage. But it's also not as bad as people think.
While Juvederm and other dermal filler injections do cause some discomfort, we try to make our patients as comfortable as possible so the pain is not as bad.  Here at Roy Kim, MD's San Francisco plastic surgery office, we use Juvederm Ultra Plus XC, which contains an anesthetic to reduce the injection site pain.
On top of that, Dr.  Kim will apply a topical numbing cream to the area, wait 5 minutes, clean the area with an alcohol pad  and then inject the Juvederm  into the dermis of your face.  Dr. Kim will then massage the area so that all the lines are perfectly filled. When you're all done, we will give you an ice to apply to the areas for 5 minutes.
And now comes the fun part! With Juvederm, you will see instantaneous results. Those lines that run from the corners of your nose to your mouth are gone. Your cheek bones look younger and less sunken. Your chin no longer resembles a marionette. And you will forget all about the pain.
You can apply makeup to the injection sites before returning back to the office (where no one will be the wiser), but be careful not to apply pressure to the treated area for a few days, because it may result in movement of the filler. You definitely don't want the Juvederm in an area that you didn't ask for.
You know that saying, "It pays to be beautiful?" Oh yes it does.  What is also great about Juvederm is that it lasts up to a whole year.  Imagine not having to see those darn lines for up to a year.  It looks so natural, too, and your friends will be checking you out and saying to themselves "Hmmm, did she get some work done? She looks so young.'' I'll never tell.
So what are you waiting for? You could look younger by Monday. Get on the phone and call me, Caroline Lagleva, patient care coordinator at 415-362-1846 and schedule your free personalized consultation with Roy Kim, MD. Dr. Kim is an expert when it comes to making faces look great, but I'll be hear to cheer you on, or hold you hand, whatever you need.