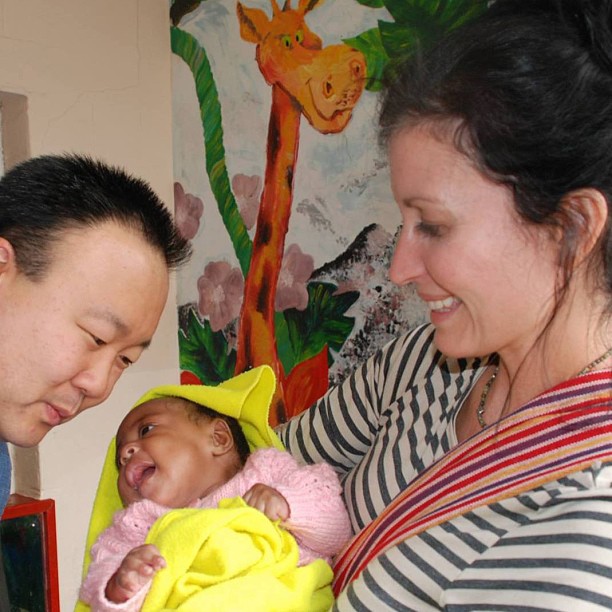 For those following along, today is my last day to operate in Malawi with Operation of Hope!  Brace yourself for a long post.  Hey, it was a long day.
Sun's Up in Blantyre, Malawi
We have stayed at the Village Green Garden Lodge.  Most of us with Operation of Hope have rooms to ourselves, though some do have roommates.   It is a fine hotel-  clean, hot water all of the time, flat screen televisions, open space, a courtyard and great hosts.  The wi-fi is very intermittent, but this is true everywhere-  like, the entire country, including the hospital.
After breakfast, we naturally take the ambulance to the BEIT-Cure Hospital where we make rounds, prep for surgery, and some of us go to "devotions".  Devotions are voluntary for us, but I must say I have enjoyed them.  How interesting to learn more about how they celebrate Jesus in Malawi: it involves a lot of singing.  It's loud, acapella, and there's dance moves.  I was asked to start my favorite song, and after some balking, I came up with "This Little Light of Mine".  All of the hospital staff knew the song, and before I could repeat myself, they improvised using Chichewa and English.  I actually felt like I could be on Broadway or on Glee-  they were that good!
Cast of Characters
There exist a number of people with Operation of Hope, who tolerate me.  They deserve much more, but will at the least receive mention here.
Kristie (pictured above), one of the RN's, gets all of the pre and post-op medicine ready.  She's also a post-op recovery nurse, who pretends to be amused by my wisecracks.  Kristie just adores the kids, and is always hugging them before and after surgery.
Laura was "voluntold" to be the RN that scrubs or circulates with me, even though she doesn't actually scrub back in the USA.  She's shown admirable fortitude in the presence of my constant lame jokes, even pretending to find some of the jokes funny, which is good for my ego.
Christopher is a 4th year British medical student.  I can't tell if he's having a good time, or cringing every time I call him "dude."   He's got that stiff upper lip and British reserve.  (And by the way, thank God.  Someone needs to have some reserve around here.)  Also, his favorite Premiership team is Southhampton, proving he's a loyal guy, even if his football team will be dropped down by the end of the year.
Kevin is our anesthesiologist.  I've worked with him many times in the past.  He's great with patients and families.  Also, he's teaching a lot this week, and the CRNA's here really seem to listen to him, as opposed to completely ignoring him, as I do…..
Melanie is one of the recovery room nurses, doing a good job waking up kids and the patients.  She knows a little Chichewa, which is helpful, since most of the patients don't know much English.
Jennifer runs Operation of Hope, and is usually either talking to hospital admin people or on the internet, setting up the next medical mission.  She is looking into some cool areas of the world in the future-  we shall see what happens.
Mari, Jennifer's daughter, is helping to run Operation of Hope, AND running Legacy of Hope, the fundraising foundation for the Nelson Mandela Childrens' Hospital in Johannesburg.  Unfortunately, she went to George Washington, and found out that I went to Georgetown, so this has been a major rift between us this week.  I mean, is being a "Colonial" better than being a "Hoya"?  Uh, I don't think so.
Martha is a RN from Zimbabwe, and has been on many missions with Operation of Hope.  She's fantastic with the kids and the BEIT-Cure Hospital staff, and knows enough languages and cultural factoids to keep us in line.  She also seems to have a smartphone (perhaps surgically?) fused to her right hand, which I'm worried about.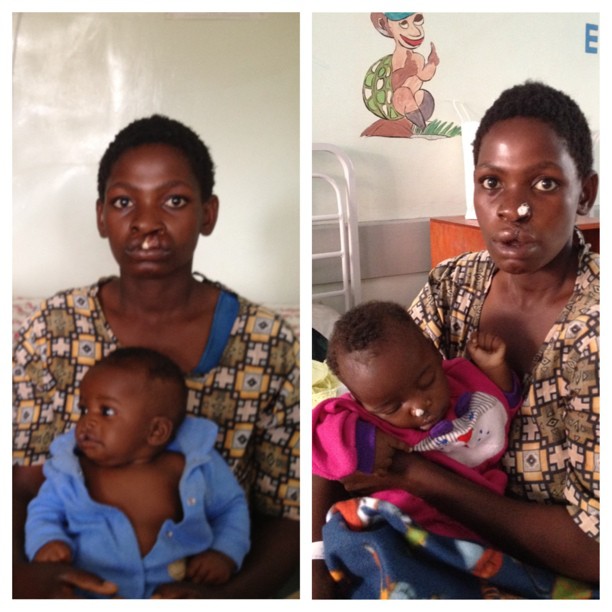 A Doctor's Work Continues
When lunch time rolls around, the hospital café delivers food:  usually salads and sandwiches.  Having been in the 3rd world before, I think it's fantastic that I can actually eat a salad in Malawi and NOT GET SICK.  This is truly impressive, and all of our meals in hotels, the hospital, and at restaurants, have been safe for our GI systems.
After lunch, I round and see my post-op patients between operating room cases.  Martha always gathers up the BEIT-Cure RN's and translators, and we really enjoy seeing the families.
The hospital ward typically has not just the patient, but their entire family, with them.  Most have traveled incredible distances just to see little old me.  It's pretty common for them to tell me they traveled 4-8 hours by bus to come to Blantyre.
Dinner – The Third Least Important Meal of the Day
At the end of the day, we make final rounds and go back to the hotel.  After that, we figure out where to go to dinner.  Most days, it's been at the hotel, where the menu is extensive and mostly American.  The Village Green has an AWESOME open space yard in the middle of the hotel, and it's a great place to enjoy fresh air and hang out.
This year I brought several boxes of Fauchon chocolates that I picked up duty free at the Charles de Galle Paris Airport ('aeroport', for those of you who took Francis like moi.)  The other lame members of my team did NOT bring any fun food or desserts with them, and have been made to pay dearly.  I expect better next year, and hope I have made myself crystal clear in this expectation.  In case any of them are reading this blog post, what I'm saying is:  BRING FANCY CHOCOLATE AND GOODIES FOR ME NEXT YEAR.
The bar is also in the outdoor space.  Usually, it's pretty quiet, but on weekends, it's one of the most hopping places in Blantyre.  The place is packed. They play dance music, and you can dance Jamaican style, twerk, do the "Psy" dance, or just watch every Prem/ la Liga/ Serie A football game possible.  And don't forget football analysis. The place is like an international G8 Summit for football opinions.
Safety in Malawi
I can't speak highly enough of how safe it is in Malawi .  As an American, I know to avoid certain neighborhoods at night.  I've been to Manila, Guatemala City and a bunch of other places, where the nice tourist areas and business areas still have armored guards at every ATM, street corner, and business possible, for security.  In Malawi, there are no armored guards with shotguns, despite being one of the poorest countries on Earth.
Working with Brits
BEIT-Cure Hospital has a formal training agreement with the UK, and there's always some type of British medical student or resident training here.  Since the hospital was a little slower this week, I was able to snag Christopher to be my first assistant for several cases.  Kevin also taught him stuff about human physiology, anesthesia, intubation, and placement of IV's.  Both Kevin and I think very highly of Christopher, and hope he learned something from us.
Dr. Beasley,an orthopaedic surgery resident from the UK, committed to spending 1 year in Malawi at 2 different hospitals to learn more about orthopaedics.  I recruited him for my hand surgery cases this week, and I hope he found it educational.  Besides that, we hit it off immediately when we realized that Christopher supported Southhampton in the Prem, and we both wondered why.
FYI: Supporting Southhampton is sort of like supporting the Cleveland Browns or the George Washington Colonials-  why even bother?  You know they're going to lose miserably, and immediately.
Last Rounds
The last time I round is a very emotional experience.  The families ALWAYS insist on shaking hands, hugging you, and wanting group photos with everyone.  So, it will take about 5-10 minutes per patient.  With dozens of patients, you can do the math-  it takes a couple of hours.
Yes, I hug patients in the US.  However, I don't hug every family member or relative at the bedside like I do in Africa.  Neither does every nurse/ therapist/ hospital worker/ CRNA.   But we do in Africa.  There are hugs for every patient when they leave the hospital in Blantyre, Malawi.  It's very touching.
Also, the last time I see all of the patients is when they tell me personal stories that make me want to cry.  On this trip, a Mom cried because she looks normal now after 38 years of having a cleft lip.  After her surgery, her 5 year daughter initially refused to hug her, because she kept on saying that it wasn't her "real" Mom.
I operated in a 16 year old boy, and on the final day of rounds, he admitted to me that he looked at himself in the mirror right after his procedure for his left cleft lip and cried tears of joy in the recovery room.  As a macho dude, he had to force himself to stop crying before he saw his family.
A 28 year old father had a bilateral cleft lip.  His wife was so happy to see that she married a very handsome guy!  Their baby boy kept on pointing to Dad's surgery side, and smiled and laughed, which apparently he never does.  You just can't make this stuff up.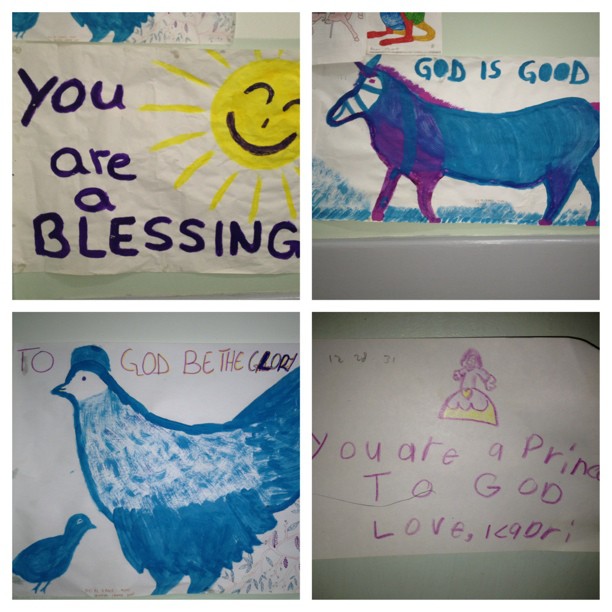 Field Trip
After crying, or almost crying, some of us took off for Open Arms in the afternoon.  I visited there last year, thanks to Marike.  Unfortunately, Marike was unable to join us this time, but I dragged along Jennifer and Kristie.  Jasmine at Open Arms was kind enough to give us a tour and let us hang out with the babies for a couple of hours.
We brought the kids some toys, and most importantly, 100 cloth nappies (diapers.)  They use cloth nappies because they find that disposable diapers are a huge pain to dispose of.  Pretty much everyone in Blantyre burns their garbage, so you can imagine the delightful task of burning dirty diapers for several dozen children – no takers.
Open Arms is not really an orphanage.  They take care of kids at risk, where the extended family can't take care of the child from birth to the age of 2 years old.  When the child turns 2, the kid is returned back to the caretakers, usually aunts, uncles, cousins, or grandparents.  The birth parents may not be in the picture, so the extended family will take care of the child.
Most stories are success stories.  If Malawi social services finds that a kid is not being well cared for, the child is sent back to Open Arms, and placement is monitored, up to and including foster care and PRIVATE school.
It's a wonderful organization, and it's pretty amazing what great care and love they give to the kids.  It was fun to play with them, feed them, and watch them interact with each other.
Friday dinner ended up at Casa Mia, a nice restaurant on Kabula Hill.  There were other adventures that evening, but I have been sworn to secrecy.   The only way you can have real experience, is by joining Operation of Hope on a future trip!