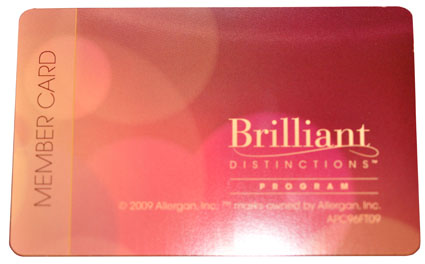 Roy Kim, MD is proud to announce that he's a member of the "Brilliant Distinctions" Program from Allergan. As you probably know, Allergan makes a bunch of great aesthetic products such as Botox, Juvederm, Latisse, and many others. Since Roy Kim, MD is an expert at using these products to get your best aesthetic results, and since he has been using a high volume of these products, he is able to offer a "points" program.
Every time you get a Botox or Juvederm injection, or purchase Latisse, or use other Allergan products, you gain "points" in the Brilliant Distinctions Program. Collect enough points, and you can get coupons for future purchases. There is no cost to join, but you need to be "in the know" and go to a doctor actually enrolled in the program.
Just because a doctor sells Botox does NOT mean that he/ she has alot of patients undergoing these treatments. I'm proud to be partnering with Allergan to give you the most value in non-surgical facial rejuvenation.
More information on the program can be found here-
http://www.botoxcosmetic.com/BrilliantDistinctionsProgram/ProgramRegistration.aspx
Should you desire more information about my available services, or want to schedule an appointment, please contact my Patient Care Coordinator at info@drkim.com, or call our office at 415-362-1846.
Did you find this article interesting?  Please share via Twitter, Facebook or Google Plus below.