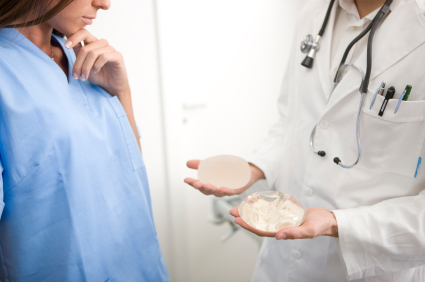 So you've had a breast augmentation in the past, and for some reason, things are no longer "just right."  There are many reasons why women contemplate another breast surgery.  Perhaps your breasts looked great for years, but now they are starting to sag.  Or maybe you got saline implants while silicone was unavailable.  Or, as is most common, you wish you would have gone with a larger size the first time around.  There are several things to consider before having what we call a "breast implant exchange" procedure.
Here are 6 questions to ask yourself and your surgeon.
Do You Need a Different Filler Material –  Saline or Silicone?
Do You Need a Different Volume?
Do You Need a Different Profile?
Do You Need a Breast Lift?
Do You Have Capsular Contracture?
Do You Have Rippling or Wrinkling?
Do You Need a Different Filler Material –  Saline or Silicone?
If you have had saline implants in the past, many patients ask about whether they should get saline implants or silicone ones.  Silicone implants were taken off the market by the FDA in 1992 after safety concerns about leakage were widely reported in the media.  After more than a decade of extensive testing and study, silicone implants were deemed to be totally safe and were reintroduced in 2006.
Silicone implants have a much more natural feel, and also have a slightly lower risk of rippling and wrinkling.  If you have been concerned about the hardness of your saline implants and want to have  more natural feeling breasts, or want to reduce any rippling or wrinkling that you may have, then silicone gel implants may be the right choice for you.
Do I Need a Different Volume?
One of the most common reasons for breast implant exchange surgery is that women want a larger size.  In my many years of private plastic surgery practice, I've found that many women wish they would have chosen a slightly larger volume.
Breast implant sizers in your doctor's office are the best way to determine which volume is appropriate for you.  But due to the implant being slightly compressed once it is placed under the muscle, I always encourage my patients to choose their perfect size – and then choose an implant that is 25-30cc larger.
If you wish to go either larger or smaller than your current size, an exchange in your breast implants may be able to accommodate that.  However, going substantially larger or smaller may not be possible due to skin stretch, but generally, going larger is more readily doable.  Going a lot smaller or substantially smaller may not be possible due to the fact that you may not have enough skin tightness after surgery.
Do I Need a Different Profile?
Implants come a long way in the last several years.  One of the most notable changes is the wide variety of breast implant profiles.  Profile simply refers to how wide the implant is.  For example, an implant with 400cc of silicone will have a higher or lower profile depending on how wide it is.
So, if you are interested in having your breast implants a little closer in the middle or having more space between your breasts, then surgically revising your current pocket and also selecting a different implant profile may be the best option for you.
Do You Need a Breast Lift?
If your breasts have begun to sag over time, then you may be a candidate for bilateral breast lift.  How to tell if you need one?  If your nipple aereolar complex (NAC), or in other words, the darker area around your nipple, has fallen to be even with or below your natural breast fold, then you are probably a candidate for a breast lift.
A breast lift can easily be done at the same time as your implant exchange if you are changing your size or if you are switching to silicone.  If you are already happy with your existing breast implants, then you may simply wish to go forward with a bilateral breast lift to restore their former "oomph."
Do You Have Capsular Contracture?
Capsular contracture is an uncommon complication but can occur with scar tissue formation around the breast implants.  This scar tissue formation may result in the hardening of your breasts.  Removing your old breast implants, removing the scar tissue, also known as a capsulectomy, and then placing new breast implants will give you a much better look and feel right after surgery.
Some people are simply more susceptible to scar tissue formation, and capsular contracture can still occur after revision surgery, so you may have to perform more implant massage and take other non-surgical measures to help prevent capsular contracture recurrence.
Do You Have Rippling or Wrinkling?
While uncommon, you may have rippling or wrinkling along the edges of your breast implant that give your breasts an unnatural look and feel.  The good news for women with this problem is that breast implant exchange almost always results in a great outcome.
Converting to silicone implants and also converting to under-the-muscle placement, assuming you have had either saline implants, or above-muscle placement, or both, should eliminate any rippling or wrinkling.
There are many things to consider before undergoing a breast implant exchange.  However, if you were able to clearly identify what issues you'd like corrected after asking yourself these 6 questions, you should have a very good outcome.
If you'd like to schedule a consultation with Dr. Kim regarding your breast implant exchange options, please contact Caroline, our patient care coordinator, at 415-354-8148.