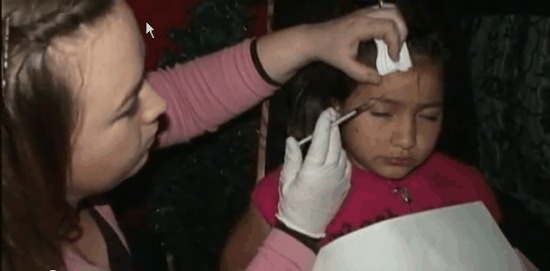 Just last week I brought you my first installment of weird, wacky and shocking plastic surgery stories from around the world.  And then, as if on cue, the train wreck now known as "Botox Mom" made her entrance onto the mass media stage and almost made this week's column too easy.  Let's dive in, shall we?
About a week ago, Good Morning Americaran a story featuring a woman (allegedly) named Kerry Campbell (allegedly) from San Francisco who claimed to routinely inject her 8-year-old daughter with Botox to give her a competitive edge at kiddie beauty pageants.  Campbell told the reporter that "lots of other moms do it" and that her part-time job as an aesthetician qualified her to admister the injections herself.
From there, the story basically went as you might expect.  The next day – outrage, outrage, outrage.  The day after that – Child Protective Services promises to investigate.  A few days later – we learn that Kerry Campbell is not the mom's real name, and she is not from San Francisco.  Shortly thereafter – Sheena Upton, the mom's real name, loses custody of her daughter.  The next day – Upton claims she lied about the whole thing, and she only did it for $200 promised by a British tabloid and for a portion of the $10,000 in fees paid for her appearance on GMA and Inside Edition.
This is so wrong on so many levels, it's hard to know where to start.  First, let me get this out of the way.  Kiddie beauty pageants=shudder.  Second, I was prepared to comment as a plastic surgeon on the dangers of administering Botox to a child, especially by an unqualified person, which is pretty obvious.  Plus, the psychological damage is probably as great as the potential for physical damage.  But now that the whole thing might be proven a hoax, I think the psychological damage to the girl will be worse than even we first imagined.  Either that, or we'll find out that she, too, is not who she says she is and is actually a 27-year-old actress.  Who knows?  The story continues to change by the day.
Lastly, Good Morning America has some splainin' to do!  I was under the impression they were a reputable, mainstream news source.  But now it seems they pay for stories?  They claim they don't pay for "stories," but rather they pay "licensing fees" for videos and photographs used in the story.  This is a roundabout way of saying, yes, we pay people to appear on our show.
In other weird news, plastic surgery is on the rise – for pets!  MSNBC.com recently reported that as pets continue to gain status in America and are increasingly regardedas a full-fledged member of the family, owners who have the desire and disposable income are requesting everything from facelifts and nose jobs to cosmetic dentistry and … wait for it … testicular implants.

Fido Before & After Plastic Surgery. (Fake photo)
In Southern California (where else?), veterinary surgeon Dr. Alan Schulman says that while he won't perform surgery for strictly cosmetic purposes, he does do a fair share of lifting and tucking on dogs with skin fold problems that can cause infection or nose jobs for breathing difficulties.
Cosmetic dentistry for dogs and cats now includes braces, bands and even retainers.  And one savvy innovator named Gregg Miller has found huge success with with his testicle replacement product called Neuticles.  So far, almost 150,000 testicle implants have been fitted to give neutered pets an unneutered look.  They are mostly used for dogs, but Miller also has different sizes for cats, bulls and horses.
According to the website, "Neuticles allows your pet to retain his natural look, self esteem and aids in the trauma associated with neutering."  Seriously.
That's all for this week.  Join me again next week as I continue to track the decline of civilized society as told through the strange and varied tales of plastic surgery.