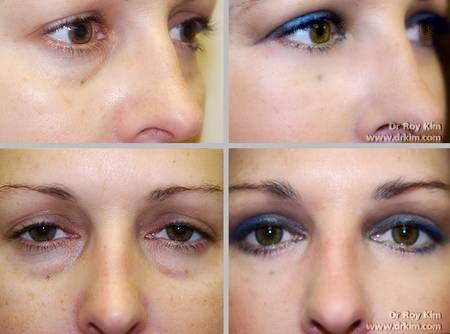 Dear Dr. Kim,
Should I Wait Until I'm Older to Get a Lower Eyelid Lift? I am a 29-year-old female, who has very puffy, swollen lower eyelids. Unfortunately, I seem to have inherited this from my mother's side of the family. I currently live in the Bay Area and I would like to have an eyelid lift performed soon. Will I need another eyelid lift in the future?
Sincerely,
Puffy in San Francisco
Dear Puffy,
Young women and men with puffy lower eyelids are ideal candidates for a "transconjunctival blepharoplasty," which is the official medical term for a lower eyelid lift.  The procedure is used for patients who have a little excess fat under their eyes but not much excess skin. It is this excess fat that gives the appearance of puffiness below the eyes. You are correct in that the cause is usually genetic.
During the procedure, a small incision is made on the inside of the lower eyelid and the fat (not skin) can easily be removed. Of course, I would need to examine you to evaluate your eyelids during an official consultation, but I usually recommend that patients consider surgery at the first signs of concern because it is uncommon for the puffy eyelids to recur after an eyelid lift. The nice thing about a lower eyelid lift is that there is not much postoperative pain, and swelling reduces in 10 to 14 days. Patients can begin normal activities within 7-10 days after surgery.
Theoretically, since this is a permanent fix, you will essentially have improved lower eyelids for the rest of your life. I have been taking care of plastic surgery patients in the San Francisco Bay Area for 14 years, so I would be happy to see you for your lower eyelid lift consultation.
How can you get a lower eyelid lift in the Bay Area? Call my patient care coordinator, Caroline, at 415-354-8148 to schedule an appointment. Thanks!
Sincerely,
Roy Kim MD
Still have questions regarding an upper or lower eyelid lift? Check out Dr. Kim's blog.
Here are the top 5 eyelid lift questions patients ask personally answered by Dr. Kim:
What is the One Thing You Have to Tell Your Doctor Before Getting an Eyelid Lift?