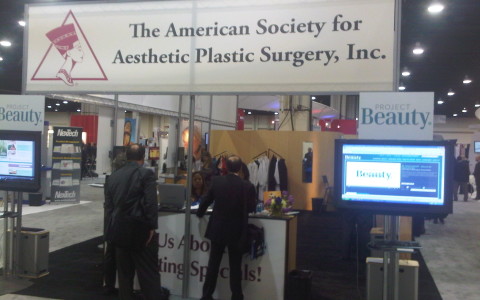 ASAPS's annual meeting was in Washington, DC, this past weekend.  ASAPS stands for American Society of Aesthetic Plastic Surgery/ www.surgery.org, and as far as I can tell, it's one of the world's largest aesthetic surgery meetings in the world.
I've post some photos in my Flickr account (http://www.flickr.com/photos/48119587@N07/), and will torture you about them in my blog soon.
The meeting was held at the Gaylord National Convention Center, in National Harbor, MD.  Yes, you've never heard of it, because it's pretty new.  It's in Maryland, across the river from Alexandria, VA.  There's only the convention center, a massive hotel inside, and a bunch of hotels and stores nearby.
I attended a  bunch of great lectures and learned some stuff, as usual.  I was able to reconnect with old friends as well.
Unfortunately, there was a limited amount of swag this year.  Here are some food items.
First, the "official" breath mints of the ASAPS 2010 meeting, courtesy of ASAPS.
Next, free cookies at the Mentor booth!  They were fresh baked all day long!
As an added bonus, Mentor offer immediate liposuction using Byron Medical equipment after eating 2 cookies.
Here's a shot of some booths.  Some seemed to extend for about a city block.
Allergan Booth-  makers of breast implants, Botox, Juvederm, Latisse, and Vivete
Mentor Booth-  maker of breast implants, Byron Medical, part of Johnson and Johnson
Medicis, representing Restylane and Dysport
Nextech Booth-  makers of Nextech, Patient Software
Obagi-  publicly traded on Nasdaq, makers of skin care products