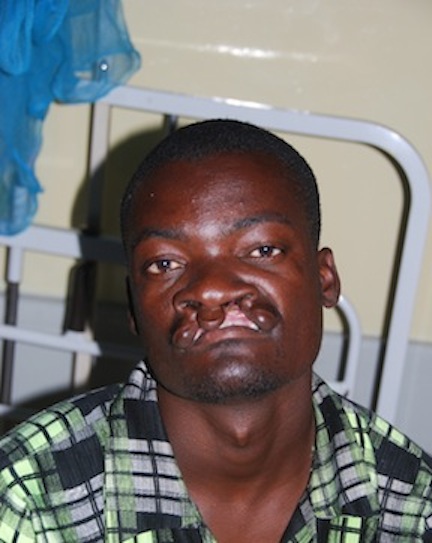 Whew!  Even though I've flown across 3 continents, Malawi always makes me excited and gets me jazzed up to return to plastic surgery in the US.  I  reflect upon the cases I've just completed, and brainstorm ways to improve my results.  It's a great energy, and proof that when you give of your time to others, you get back even more in return.
As far as inspirational moments go, I happened to catch one by accident, in one of my photos.  At first glance, it might just look like another third world cleft lip patient.  But this picture encapsulates one of the best moments I've ever had in my life.
The following true backstory, was confirmed by the translators at the BEIT-Cure Hospital.  I hope you don't cry as much as I did when I heard this amazing story.
A Young Family
The young African woman in this picture lived in a small village, and met the man of her dreams.  Every girl hopes to find this kind of man to build a life with, and Njiwa had it all… all except for the outside package.  Kind, caring and understanding, Njiwa was willing to work hard for her and their future kids.  But Njiwa had a bilateral cleft lip, and was harassed and ridiculed for it his whole life.  Virtually everyone in the village mocked and shunned him.
Miraculously, instead of being bitter, Njiwa absorbed the blows and pressed on with life.  She noticed the little things about him-  his smile, his crooked teeth, his gentle nature with family, and she fell in love.  The woman thought he was handsome enough, even with a bilateral cleft lip.  In their small village in Malawi, there was no chance that the deformity could be repaired-  surgery was very expensive, and he would've had to go to Zimbabwe or South Africa to get it fixed.  That might as well have been the moon.  Neither had the money to pay for transportation, let alone the cost of surgery.
The woman decided to marry Njiwa, and as his wife, she soon joined him as the target of ridicule.  Her family, friends and entire village were shocked that she married the scarred outcast.  Many thought Njiwa was cursed, and that his future children would be as well.
But this strong woman rejected the cruel words of the villagers –  because she knew the value of the man she loved.  Instead, she believed that their life together would be blessed.
A New Son
Njiwa and his wife soon had a son; completely normal in every way.  They were overjoyed, yet wondered if their son would ever be able to look at his father and see a good man, or just a deformed man with a bilateral cleft lip.
The woman hoped somehow, that when her son grew older, the other children in the village would not also make fun of him because of Njiwa's appearance.
She did not know if their young family would continue to be shunned, even though the son was normal, or whether the ridicule would affect the boy's attitude or future behavior.
Njiwa's wife hoped that future sons and daughters would be as stoic and strong as Njiwa, and not ashamed or embarrassed of their father.
Chance for Change
By chance, a friend of an acquaintance of a friend told Njiwa that Operation of Hope was coming to Blantyre, Malawi, to do free cleft lip and cleft palate surgery.  The family saved up money, and confirmed that the rumor was true.  Even though it was a free surgery, they still needed to save for transportation and a week off of work.
The risks of surgery were frightening, but the woman secretly prayed the surgeons in Blantyre could help her beloved, Njiwa.
When they finally arrived at BEIT-Cure Hospital in Blantyre, they meet the entire surgical team and the surgeon.  It was overwhelming, but incredibly joyous when they heard that Njiwa's surgery could and would be done.  She dreamed about what he would look like.  She had considered the looks of his parents and his son, and knew what Njiwa looked like in her own biased eyes –  but she had never seen him without the cleft lip.
Tears of Joy
After Njiwa's surgery, they both started crying.  He was so handsome!  The woman embarrassed her husband by gawking.  She had no idea what a good looking man she had married!  It made the nursing staff laugh,  but she had known all along what a beautiful person he was.
The couple's infant son kept on pointing to his upper lip and to his daddy's upper lip, then he would smile and laugh.  Everyone in the hospital ward, even the surgeon from the US noticed how happy their son was; he just kept pointing at everyone's upper lip!
The young boy couldn't yet talk, he just knew to be happy because –  Daddy was better.
And Njiwa tried to smile.  The surgeon from the US explained that adult facial and lip muscles don't always heal as well as in children, but this was one strong and patient woman.  She did not care that others still saw imperfection –  her Njiwa had the most wonderful smile she'd ever seen.
That was the first day she had ever REALLY seen him smile.
When the Operation of Hope team did the final rounds before returning home, everyone in the ward demanded group photos.  The stories really poured out of people.  Njiwa's family was touched by how many other families had also suffered from mere birth with a cleft lip.  All were thrilled that normalcy and beauty had been restored in a little corner of the world, called Blantyre, Malawi.  The photos were taken, and the family travelled back to their village.  This faithful and loyal wife is proud and happier than ever, now that Njiwa is as handsome on the outside as he has always been on the inside.
Catching a Moment
When I was reviewing his case, I noticed that the "official" family portrait had Njiwa's wife smiling at the camera.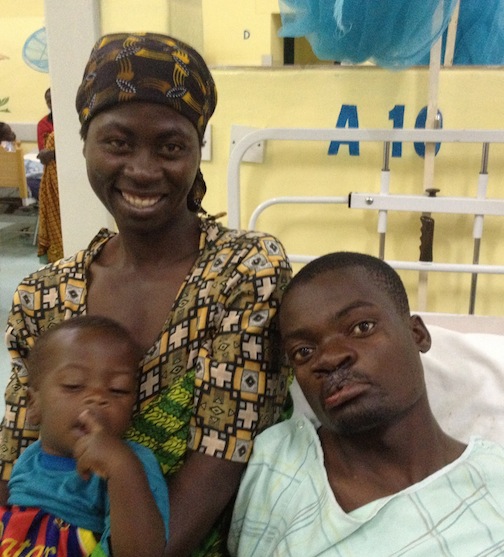 I think my trigger finger was itchy that day, because I had another photo of them-  where Njiwa's wife is looking at him, and smiling with bliss.  His infant son is pointing at his lip, and looking at Dad.
Photography, zen, fleeting moments, an itchy finger-  whatever you believe, it's pure fate that caught that moment.  I hope you enjoy it, as much as I enjoyed discovering it.
If you'd like to help more people like Njiwa and his family, please consider  sharing this story.  Of course, if you'd like to make a monetary donation to Operation of Hope, go to-