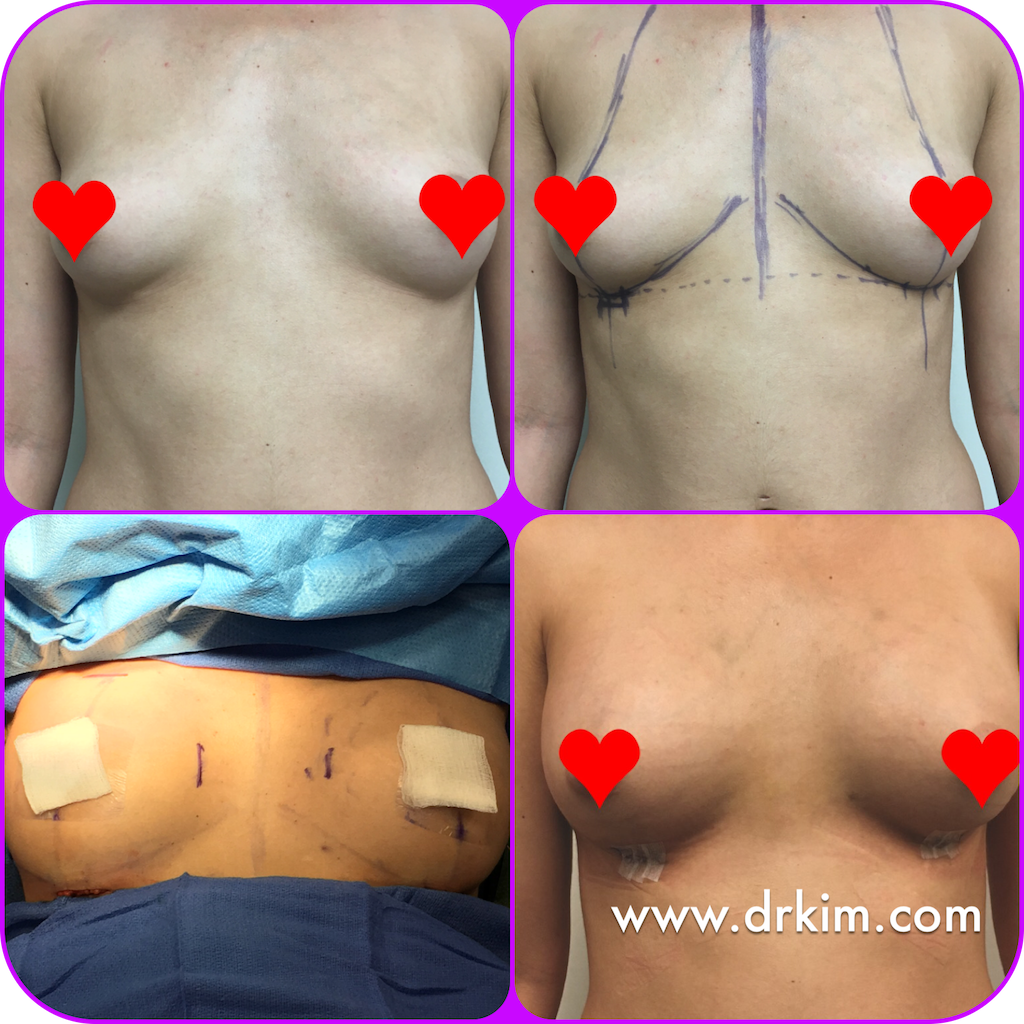 Thanks to a very social patient of mine, she has graciously agreed to show her breast augmentation results as they happen.  So, you will see more photos than average regarding a typical breast augmentation, and some plastic surgery geek talk concerning the subtleties that I see and have to account for.
This patient is a healthy young patient who wanted a small to moderate increase in her breast size.   After several consultations, sizing with Crisalix software, and sizing with physical sizers in my office, she chose 255 cc, smooth, round, silicone, moderate classic profile breast implants.  They were placed through a breast fold incision, and placed under the muscle in a "dual plane" pocket.
All of the photos have the "after" image from POD #3/ post op day #3.  On this day, I removed the pain pump from the patient and made sure everything was healing well.  My patient was able to walk around, move her arms freely, and generally felt fine.
If you look at the photo above, the first photo is one right before her operation.  The next photo is also right before her operation-  but I place purple surgical markings on me.
Drawing on patients help me figure out exactly what I need to do during a procedure.  Also, I have to sit you up during your operation after the breast implants are placed.  Your breasts look different when you are flat, versus when you are sitting upright- and the marking take this into account.
The third photo is what the patient looked like in the operating room, at the very end of the breast augmentation.  The fourth photo is post-op day #3, and an enlarged close up of this frontal view is later in this blog post.
Here is the first "before and after" photo –  a profile photo, where she is looking to the right.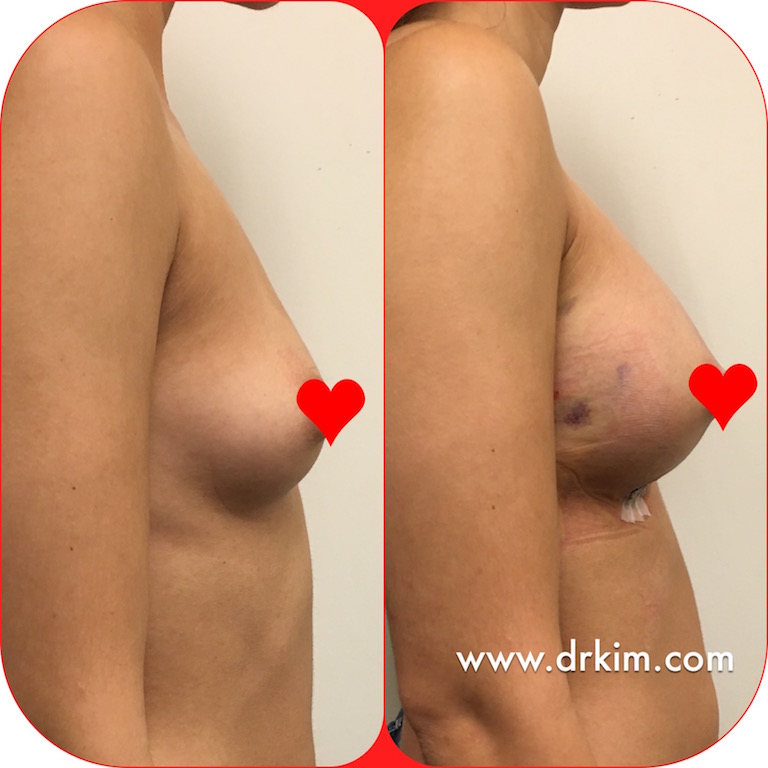 You will notice that she has a purple mark on her right breast.  This is not a bruise, but it's the purple ink from the surgical marker.  The incision that I used to put the breast implants in are in the breast fold, and are covered with white sterile pieces of tape.
Here is the next photo-  a 45 degree angled view –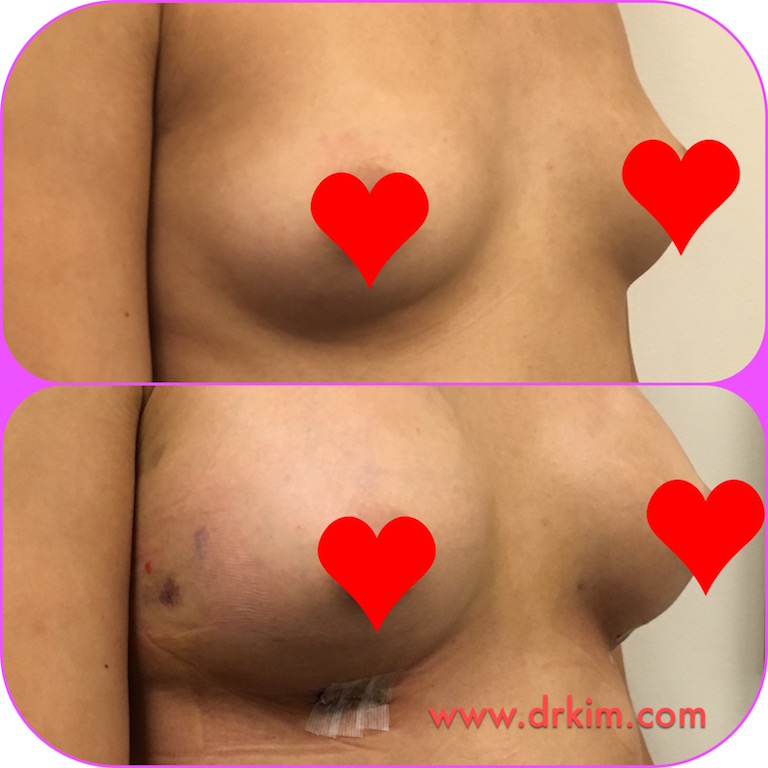 Next photo is the frontal view –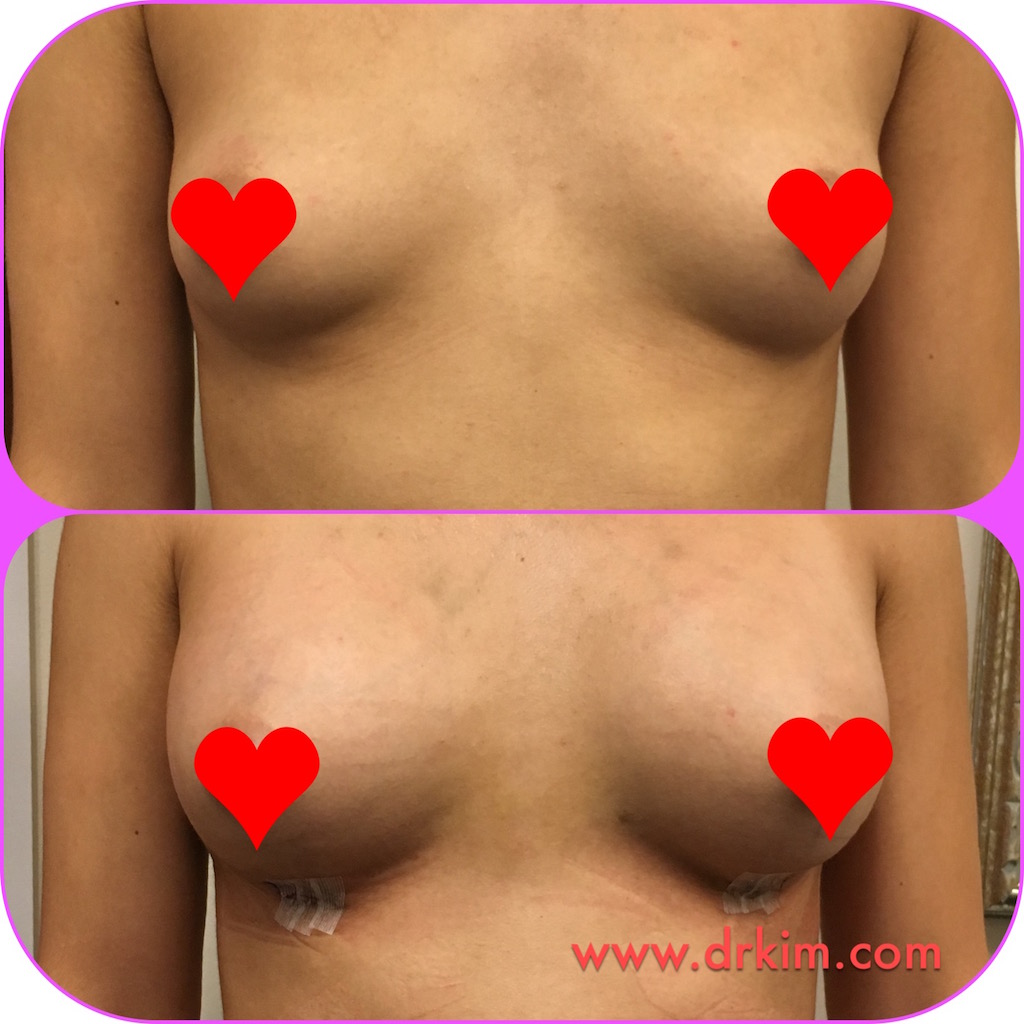 This is slight test- do you see any asymmetry?
If you stare close enough at her "before" and "after image, you will see that in the "before" image, her right breast fold is higher than her left breast fold.  The breast volumes on both sides are about the same.  However, if you stare at the left and right breast, you will notice that the shadow is slightly different-  because the right breast fold is slightly higher and/or the left breast fold is slightly lower.
This is perfectly natural, and she never noticed this until I measured her breasts, discussed this fact with her, and told her that I would have to slightly lower the right breast fold so that it would be symmetrical to her left breast foldYou can see in her "after" photo that her breast fold position is now symmetric.
There are always subtleties to breast augmentation, and it's my job to make sure that I take into account all of the individual variations that you may have to achieve the most beautiful result possible.
Here is the next photo-  45 degree angle, facing the left –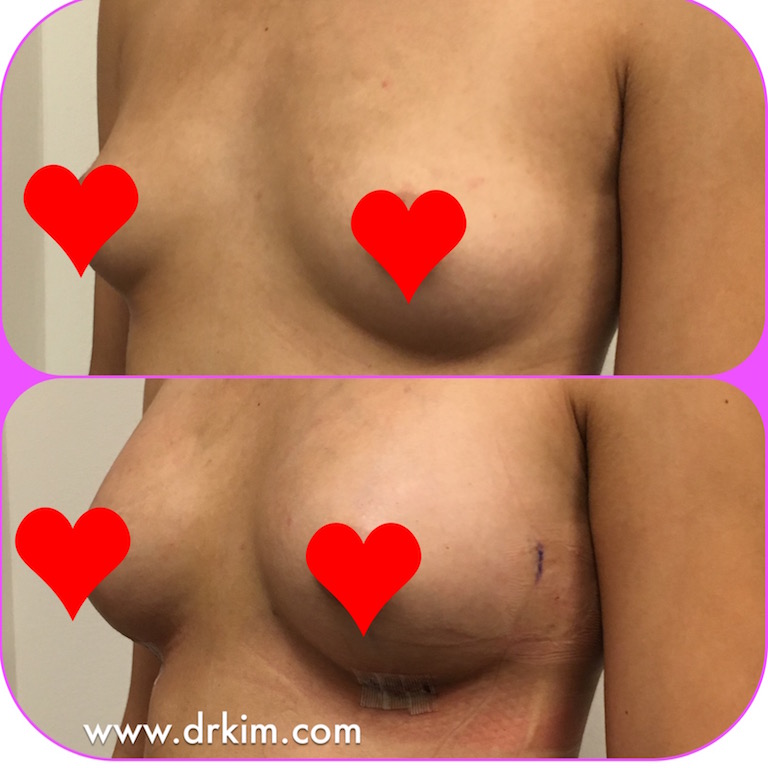 Again, you will notice that she has no bruising, and that the purple line on the left breast is still from the surgical marker that I used right before her operation.
Finally, the profile view, where she is looking to the left –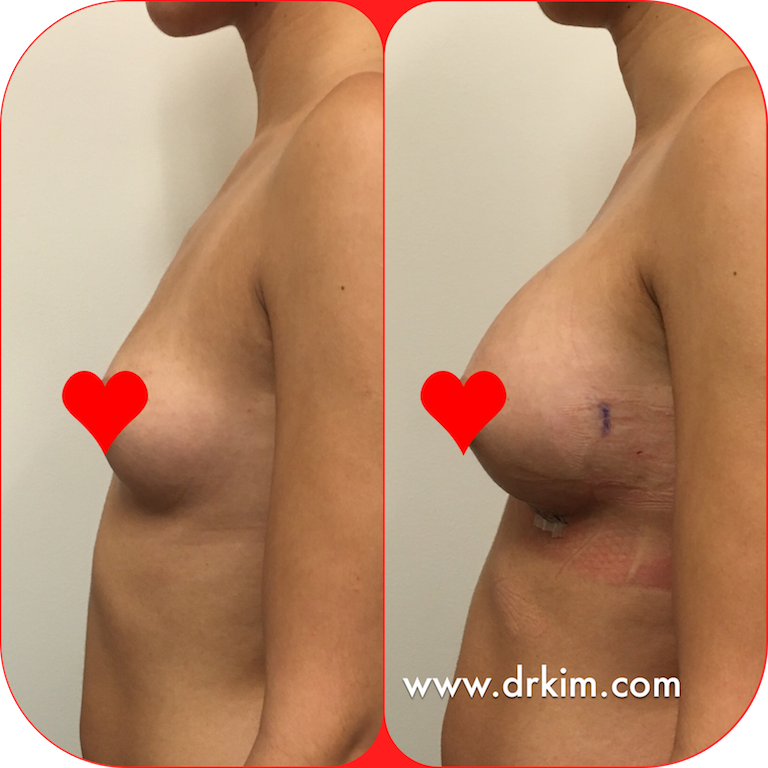 You will notice on this profile view that the top of her breast looks slightly round.  The breast implant is round, but some of the roundness of the tops of her breasts are due to swelling of the breast tissue right after her operation.  Remember, it's only 3 days after her procedure-  so I expect swelling to decrease by about 10-20% from these photos.
She has had very little swelling right after surgery.  She is young and healthy, which definitely helps.  Also, with years of experience, I use special techniques in the operating room to reduce too much surgery or dissection.  The less "stuff" I have to do in the operating room but just enough surgery to get the result you want will result in less swelling after your operation.  You should also have less pain after your breast augmentation with me as well.
I will update this patient's post-op breast augmentation journey over the next couple of weeks!  If you have any comments or questions, please let me know.
To set up a breast augmentation consultation, please contact me at info@drkim.com or 415 362 1846.  I look forward to meeting you!