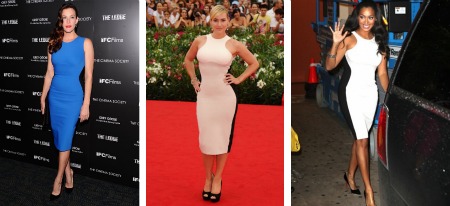 by Charity Ohlund, guest blogger and fashionista wannabe
Dr. Kim is the most talented plastic surgeon in San Franisco. No make that in all of California. No make that in all the world. But every once in awhile, maybe we should give him a break, eh? Do something for ourselves to look younger and thinner without his help?
Okay, okay. We would probably all benefit from a little nip and tuck here and there, but today I wanted to share my 5 tips for looking younger, thinner and fresher without plastic surgery. Of course, if you do these things along with your Botox, dermal filler, liposuction and iGuide, you might just find paparazzi outside your house.
#5 Wear a "Miracle Dress"
If you've somehow made it to May without ever hearing of designer Stella McCartney's Octavia color blocking dress, dubbed the "Miracle Dress," then you must be very pale from being under that rock all season.
The Octavia dress (pictured above) is pure genius. It uses black fabric along the sides, which curves in at the waist to give the illusion of a long body and tiny waist.
At $1,600, it's a bit pricey. But knock offs can be found just about everywhere. Here's one for just under $53! Try it. You'll see how this simple illusion can make you feel like a million bucks.
#4 Use the Kim Kardashian Eye Concealer Trick
We can't all agree that Kim Kardashian should be famous. But I think we can all agree that her face is beautiful. I've stolen one of her makeup tricks and swear by it to this day.
Wear a very light-colored eye concealer in a triangle shape below your eyes. Here's how.
Kim uses some super expensive concealer in the very lightest shade (almost white) available. She then uses it to make a large triangle that runs from corner to corner of her eyes and down to a point in the middle of her cheek bone. Use a lot more than you think you need. Then use a sponge to blend it well. Then simply apply your favorite mineral powder foundation.
I have found a great drug store knock off by Loreal, called Magic Lumi Highlighter. I use this along with the Magic Lumi Primer before I apply my foundation. I'm guessing those two products take about 3 years off my face. No kidding.
#3 Drink More
No, this is not another beauty tip that says you should drink more water. We're so over that, right?
I say drink more wine. This may not be recommended by Dr. Kim, but one glass (heavy pour) of red wine per evening will help you relax, help your heart and keep you happier. And go ahead, eat a square of dark chocolate. But only one. That Miracle Dress can only do so much.
#2 Wear High Heels
I'm a mom to two young boys, and I know, the thought of wearing heels makes me want to cry. Before kids, I wore heels almost every day. Now I just search for the comfy factor when I open my closet each morning.
But we must not go quietly into that dark night of mommyhood! I'm not saying do it every day, but when I do manage to put on a great pair of jeans and some killer heels, I feel more confident … and skinnier. Don't ask me why, but it works.
#1 Get a Spray Tan
One spray tan will forgive of month of skipping the gym. If you are feeling blah and nothing else seems to work, try this one simple trick.
For some reason, having a little color makes your muscles look more defined and gives your face a just-back-from-vacay glow. It even makes you feel better about your belly and thighs. Spray tanning is my #1 go-to trick because I look better in my Miracle Dress and heels while rocking my eye concealer and sipping a glass of wine. Plus it only takes about 5 minutes. Suh-weet!
In fact, I gotta go. I have a spray tan appointment in 10 minutes.
Have a wonderfully thinner, younger and fresher summer!