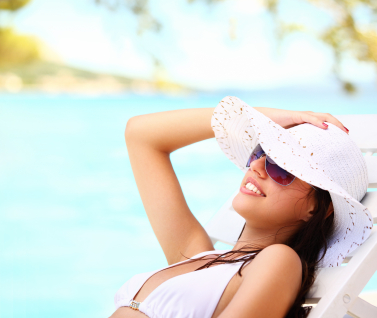 Last week, I wrote about how to avoid an unnatural facelift result. Today, I'm going to give you the scoop on getting a great breast augmentation result.
In my San Francisco plastic surgery practice, I do several breast augmentation consultations every day with patients, and they all ask me about how to look natural while improving their overall appearance. Here are my top 5 tips for avoiding an unnatural result after breast augmentation.
#1 Silicone vs. Saline
The silicone vs. saline choice is purely up to you. However, myself and most other plastic surgeons agree that silicone breast implants look and feel more natural than saline implants. Silicone mimics natural breast tissue in its firmness and weight. Saline implants are filled with water.
Silicone implants have undergone years and years of study and review and those made and sold in the United States have been deemed safe. So the choice is up to you, but with safety being equal, silicone is usually a better choice for patients concerned about a natural appearance.
#2 Choose the Appropriate Volume
This tip is rather obvious, no? In short, don't go so big that you look…well, so big.
Every patient's unique body size and structure should be taken into account when choosing an implant size. If you are 5'1″ and weigh 105 pounds, you'll look very different with 450cc implants than a woman who is 5'9″ and weighs 150 pounds. Your surgeon (and your girlfriends) can help you make the best choice based on your aesthetic goals.
#3 Choose the Appropriate Profile
Most of you probably now that a breast implant comes in different volumes. However, a more subtle measurement, but just as important, is the profile of your implant.
Once you have figured out the optimal volume for you, the next step is to choose which profile is best for your frame. You have to be measured, because the breast width is difficult to measure unless someone is sitting in front of you. Also, other measurement may need to be done to assure symmetry and proportion.
Generally, the breast implant profile chosen is one that fits the base width of your current breast. Both Allergan and Mentor breast implant companies offer 3 different widths or profiles.
If the profile chosen is too wide, then you may end up with breasts that touch in the middle. This is called synmastia, and is actually abnormal.
If the profile chosen is too narrow, then the breast implants will fit the width of your breasts, but the space between your right and left breast will be too large, resulting in possible lack of cleavage.
The width of your breast implant needs to be "just right", which completely depends on your personal measurements.
#4 Place the Implant Under the Muscle
Breast implants are placed either above the muscle,under the muscle or under the muscle fascia. The most common placement is under the muscle. The reason for this is because this maximizes the tissue over the breast implant and the edges of the implant, resulting in a more natural feel of the breast implant. Also, under the muscle placement allows for less rippling or wrinkling, which means less visibility of the implant.
Regardless of type of breast implant, saline or silicone, the placement of the implant is crucial in making the end result as natural as possible. The breast implant is usually placed under the muscle, also known as the pectoralis muscle. This ensures that maximal tissue is covering the breast implant, including the skin, soft tissue, and muscle.
This gives a more natural feel to the breast implant, and after healing, your breast feels extremely natural, just augmented.
#5 Don't be Too Thin
This is a rather quirky tip, but I'll share it nontheless. In some cases, the patient just doesn't have enough body fat to hide the edges of the implant, especially near the underarm. This results in being able to see or feel the rippling or wrinkling of the implant's seams. Even with under the muscle placement, some thin patients will not be able to fully hide the implants. So go ahead, enjoy that cheeseburger and enjoy your natural breast augmentation results!