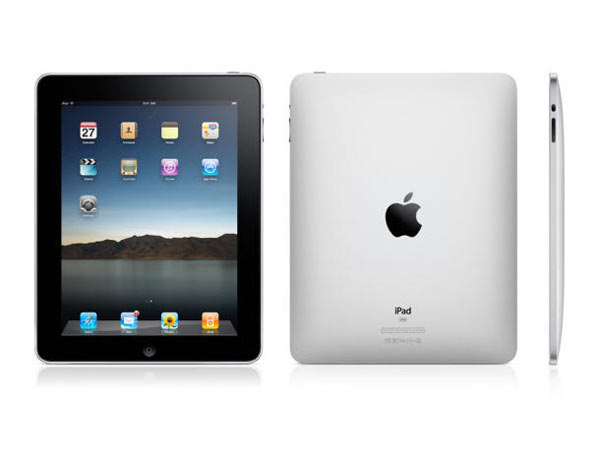 So yeah, I pooh-poohed the iPad a couple of months ago.  After using it over the past several weeks, I have changed my mind.  In fact, I have decided to become an evangelist and to spread the good news to everyone in the world – well, at least to the people reading this blog.  (Insert dramatic pause for effect here).
My friends, get thyself to an Apple store immediately and buy an iPad.
Here's my unique "plastic surgeon in San Francisco" perspective and why this little device will change your life –  or at least suck up many of your awake hours.
Instant On/Off
iPad is Intuitive (Wait, Make That, Smarter Than You)
iPad has DirecTV!  Wha?
iPad has the PRS/ Plastic Surgery Journal (Nerd Alert)  
Kids are Easily Amused
The SFPL has Books to Borrow
There are Tons of Free eBooks to Read
Good for Old Eyes
Longer Battery Life
Portable
Instant On/Off
The iPad has very fast on/ off speeds.  Basically, if it's sleeping, it's sleeping, but it's a light sleeper.  A gentle touch will arouse it from its slumber, and it's ready to par-tay.  Don't you wish your snoring spouse was so accommodating?
It also doesn't get stuck in a groggy sleep and then get in an infinite loop before showing the blue screen of death, y'know, like that other computer does.  That other computer is like, "Dude, can't you see I'm trying to sleep?"  But the glorious iPad?  It's ready to go IMMEDIATELY.
iPad is Intuitive (Wait, Make That, Smarter Than You)
The iPad is very intuitive to use.  Like, my 3 and 5 year old boys use it all of the time to watch Youtube videos of Monster Truck Jam, make the volume louder so that I can hear Monster Truck Jam, and get to the next loud crash on Monster Truck Jam.  As far as I know, my 3 year old doesn't know how to read yet, but no instructions were needed for him to use it.  No wonder it's so popular in Mmmerica!
iPad has DirecTV!  Wha?
The new DirecTV iPad app is everything a man could hope for.  Well, almost everything.  It allows me to watch TV and comfortably ignore the rest of my family.  It only shows live television, and only from a couple of channels, but I'm really digging the NFL network and cooking shows.  OK, maybe not cooking shows.
iPad has the PRS/ Plastic Surgery Journal (Nerd Alert)  
Yes, finally. I know you've all been waiting, too.  The white journal of Plastic and Reconstructive Surgery is finally available on the iPad!
With a subscriber base of maybe 4,000, I can finally read it on a computer, and not in print form!  I can ogle hot photos of surgery!  I can look at archived photos of surgery!  I can get CME credits!  Woo hoo!  Now, if only Aesthetic Surgery Journal, the gold journal, had an iPad app.  That would be hot.
Kids are Easily Amused
My kids now hide the iPad from me, so that they can use it.  It's getting to be a serious situation.  So serious, that we may become one of those "spoiled-rotten-kid" families where each kid gets an iPad.
The SFPL has Books to Borrow
My public library, the San Francisco Public Library, has books and MP3s that I can download and read.  FYI, the software program is called "Overdrive."  The iPad is still too heavy to read for too long, but I'm training my two sons to hold my iPad in the perfect position while I read.  Unfortunately, they keep switching the app to Monster Truck Jam videos on Youtube.
There are Tons of Free eBooks to Read
I'll admit it.  I hate buying books.  I love to read, but I don't want to pay for it, hence the library card.  The iPad has loads of free books that can be found on Amazon and many other legit websites.  Of course, they are mainly old classic books that are no longer protected by copyright, but that's okay –  sometimes the oldies ARE the goodies.
Good for Old Eyes
Speaking of oldies, I may need reading glasses someday, but the ability to use my thumb and forefinger to spread web pages and books into a larger size on the iPad has postponed this need for me.  Instead of large print websites, I just use my fingers to spread apart difficult tiny fonts.  Not surprisingly, geeky plastic surgery websites are usually written in a font size of 0.58, so this feature helps me all of the time.
Longer Battery Life
The iPad has a VERY long battery life, longer than most laptops.  This alone has helped deal with actually using the iPad after the kids are asleep, and having a little juice left to actually read or surf the net.  Plus, I have to spend a significant amount of time clearing the cache of Monster Truck Jam videos from YouTube.
Portable
It's very portable.  iPad is the perfect size if you want some type of Internet viewing device, but not a phone and not a laptop.  It's also the perfect size for my kids to watch Cartoon Network.  The size is so perfect that it can really replace many laptop functions.  It's a little weak at typing and very weak at multi-tasking, but you can read my previous article on why the iPad isn't all that great.
So, the overall verdict?  Yup, I drank the Kool Aid.  The ghost of Steve Jobs got to me and convinced me I can't live without this thing when only a few months ago, I was saying, "Meh."
Today, I would honestly say 4 out of 5 stars.  It needs to be a little cheaper and faster to be worth 5 stars.  Remember, I have the iPad 1, and not the iPad 2.  I'm expecting the iPad 3 to completely alter my existence, and I will start a cult worshipping it when it comes out.